Awaken the force within you with the Force FX lightsabers!
Whether you love Siths or Jedis, there's something for everyone.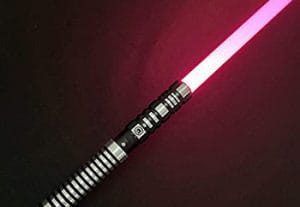 The Star Wars Black Series is known to produce the best Force FX lightsabers. Sure, you can find pretty god models from third-party sources as well.
We carefully compiled this list to satisfy both duelers and collectors. Get your hands on these sabers before someone else does!
Check them out!!
10 Best Force Fx lightsabers 2023 Reviews
1.

Star Wars The Black Series Darth Vader Force FX Lightsaber
The Darth Vader lightsaber is definitely one of the best force fx lightsabers in the black series. The distinct red color of the light makes you feel more powerful and passionate. That's what being a Sith is all about, isn't it?
The build quality is quite good and can take some light dueling. Heavy dueling can cause dead spots in the blade as there are LED strips inside. However, the blade is made of clear plastic that lights up from the hilt to the edge. So, that's pretty cool stuff, unlike blades that light up altogether.
Like any force FX lightsaber, this one has sound effects when you turn on or move the blade side to side or make contact with another lightsaber. What we loved most was the look and feel of the lightsaber. It's quite close to the studio replica and the details are good enough.
The blade on this lightsaber is fixed and also the light doesn't change. For a Darth Vader version, you will expect it to retain the red color. Even the hilt has some weight to it which will make you feel a bit powerful.
There are only two issues with this black series lightsaber. It doesn't have a rechargeable battery and there's an annoying sticker on the hilt which is hard to remove.
2.

Star Wars The Black Series Kylo Ren Force FX Deluxe Lightsaber
Get yourself a Kylo Ren Force FX lightsaber to rock the Halloween party or as a collectible. It's the best quality lightsaber among other Force Awaken lightsabers and arguably the more expensive one!
Based on a metal hilt, this thing is ultra-durable provided you don't duel with it with high force. However, you can swing with it without any issues. The sound effects will keep you interested which you can during off/on, swinging, or colliding with an object. It has a slightly lower audio volume and quality compared to the Darth Vader version.
The best thing about this lightsaber is its awesome-looking design. It has the new protruding side sabers on the left and right. But that's not it. The way the saber lights up is something to enjoy every time! Even the ignition switch is placed in the perfect position and feels comfortable to use. Overall, it's a super balanced lightsaber to have in the collection.
Some users have reported about the switch being faulty as it turns off in on position. This could be a fluke or one-off situation. The issue with the battery remains in this saber as well. You will need to replace the AA batteries and that could be a pain if you are playing with them often.
3.

KYBERS RGB Lightsaber
This Kybers RGB lightsaber is definitely a winner when you look at its price to value ratio. It features a high-quality aluminum hilt and a sturdy saber that can take some beating. If you want to duel with it, go for it!
With a Kyber connector, you can make it into a double bladder saber in no time. What's better is the quality of the LEDs. You can adjust the brightness in three levels and change the color to 12 different colors. That's just insane! From a Force FX lightsaber, this is what you would normally expect.
As for the sound quality, it's quite nice for the money. You can adjust the volume to low, medium, and high or mute it altogether. It also has 3 sound fonts. So, you do have some customizable features here which we love.
The battery is a beast. It will probably last the whole Halloween night and more. The only problem is some of the Kybers lightsabers come with faulty charging issues and you should be aware of that.
4.

Star Wars The Black Series Luke Skywalker Force FX Lightsaber
You can't simply ignore the Luke Skywalker version in the force fx black series lightsaber. Become a Jedi and epitomize the power of the force with this skywalker saber!
All things apart, this saber like all the black series sabers have a good build quality. The hilt is definitely aluminum and you can feel the weight in your hands. So, it won't feel like a kid's toy. If you are a collector, this could be an item you should have in your arsenal.
The overall length of the saber including the hilt is 43 ¾ -in. So, it's pretty standard. It comes with a stand that will help you to display the saber.
As far dueling is concerned, you can do light dueling with it. The LEDs might pop out of the blade if you strike it too hard. Usual swinging shouldn't be an issue, period.
The lighting and sound effects are much closer to the master replicas. You'll love how it makes sounds during clashes and swings. The one thing the manufacturers could have improved was increasing the sound volume. Also, the saber uses AAA batteries instead of AA batteries which is common among Hasbro sabers.
5.

X-TREXSABER Dueling force fx Light Saber
The X-Trexsaber is probably the best force fx lightsaber for dueling! The blade can withstand medium to high impact force and won't break with a single blow. For kids, this is just the right kind of toy.
The saber has some weight to it and it doesn't feel like a toy by any means! Even if you break it, you can find replacement parts easily from the seller. So, that's a relief.
You will find 12 RGBs on this saber, so you can choose your color whether you want to play as a Sith or a Jedi. Moreover, the sound effects are realistic and mimic those that you can hear in the movies. You can even choose to mute the sound effects or decrease and increase the volume in two levels. At this price, it's quite impressive.
The ignition button does most of the controlling on the saber. So, it could become a bit complicated at the beginning. When you get used to the control like how the light works and sound volume works, it won't be much difficult.
The saber takes only 4 hours to charge and you can expect 1 full hour of operation. It's nothing out of the world, but better than a lot of saber replicas.
The only thing that looked cheap was the grip tape on the hilt. But you can always get a new and better grip tape!
6.

Star Wars The Black Series Count Dooku Force FX Lightsaber 
Count Dooku's iconic curved-hilt lightsaber is here again! It was discontinued in 2007 and so it would be really nice to have one of these in your arsenal as you don't know when it goes out of stock or discontinues again.
This lightsaber with its unique curved shape is one of the best force fx lightsabers and is mostly preferred by collectors. It has a nice stand with it that makes it even more appealing. Originally, this saber was used to slash and lunge with greater precision. So, swinging with it isn't feasible. You can duel with it lightly, but we don't think it would be able to take any big blows.
The quality of the LED and the sound effects were as good as expected. All the sound effects are digitally recorded from the movies. It does have clash effects. However, it seems that the sensitivity is a bit low. So, you will have to hit a little harder to get the clash effects. For collectors, this shouldn't be an issue as dueling isn't the focus.
What annoyed us is the battery pack installation. You need to use a Philips screwdriver which isn't tough but can be a hassle to get done each time.
7.

JOYIN Light Up Saber 
If you are searching for a cheap force fx lightsaber, the Joyin sabers are definitely worth buying. You get two sabers combo which we think could be great for parties and cosplay events.
The sabers come in two colors: blue and green. They are quite bright and will illuminate a dark room. What's best is you can combine them and make a double-bladed saber. Even the weight isn't too heavy, so it's definitely kid-friendly.
The sound isn't too loud or obnoxious. Compared to the black series, you won't get movie-accurate sound effects. But the sound is clear and easy on the ears. For the price that's good enough. This saber will make noises when it clashes and slashes. The sensitivity of the motion sensor is fast and you can hear the clash effects pretty fast.
Now the question is are these sabers good for dueling? At this price, you can't expect a dueling lightsaber. It will break with light to moderate pressure. We recommend not to go down that path.
The only issue we encountered was sometimes the sound effects don't work and you need to reset the batteries to make it normal.
8.

Hasbro Star Wars Anakin to Darth Vader FX Lightsaber
The multi-color lightsaber from Hasbro could make a great toy for your kid's next birthday. It doesn't have a high-quality build like the black series, but it can definitely endure light dueling.
The light and sound effects are pretty accurate. But we feel the effects are pretty dated and possibly collected from old star wars movies. They work flawlessly and that's what you want.
The blade changes into two colors. We found that the LEDs have some flicker to them and seem like a banding effect is taking place. You need to look closer to look at it. So, it shouldn't be a big deal. The one thing that you might find annoying is the fact that you can't turn off the sound effects.
Like most sabers, this one isn't detachable. The hilt is mostly plastic, but it's still is strong enough. Overall, this looks more like a toy saber rather than being a collectible.
9.

CVCBSER Premium Aluminium Alloy Handle Force FX Lightsaber 
Not all lightsabers are built for dueling. The CVCBSER is the best dueling force fx lightsaber as it definitely takes big blows without any noticeable damages. Moreover, It's got all kinds of effects that you want in a saber.
It boasts a 12 color profile so you will never run out of fun. Moreover, there are 5 kinds of music and 9 different sound effects which you can adjust with the help of the manual. You can change between stable. Pulse and unstable effects and they look amazing!
The saber has a rechargeable 3000 mah lithium-ion battery. But it doesn't provide enough backup. So, if you feel you need more battery life, just change the battery. The good thing is there is an overcharge and over-discharge protection system built-in.
About the dueling- we came across users who have whacked this saber more than 30 times per day for 4 days and it still maintained its shape with just a little bit of scratches.
10.

Adawlert Metal Hilt Light Saber
The Adawlert lightsaber could be a deal maker for a lot of hobbyists and even kids. These sabers have a well-made exterior and can take some beating. You can do a light to medium duel with them and the blade will keep going.
You can connect two of these lightsabers together to make a double-bladed saber! And you don't need anything extra to get it done. Just an extra saber will do.
We loved the fact that you have the option to change 6 sound fonts which is a lot in this category. You can adjust the volume and can even make it mute. Only, the starting and closing music can still be heard.
The rechargeable battery is a winner as you can easily charge the saber and use it again and again without having to buy new batteries. The battery is also removable. So, if something happens, you can always replace it.
We were a bit skeptical about the quality of the lightsaber and how long will it last. This could be a hit or a miss. But overall, it could be a nice toy to have for your kids.
What to Look for When Buying Force FX Lightsabers?
1. First-grade replicas or replicas from third parties
You will find the force FX lightsabers from various vendors and sources. However, official sellers like the StarWars store and Hasbro make first-grade replicas that have good build quality and almost guaranteed durability. Third parties also sell Force Fx. However, the quality varies and you will have to look into them a bit more.
2. For dueling or collection
Usually, first-grade replicas from official sources don't make lightsabers that can withstand dueling impact. Light dueling is possible but that too at risk. There are a few Fx lightsabers from third-party sources that make sabers for dueling. Even if you break them, the low prices won't be an issue for you. As for the collection, we recommend going for the official replicas as they have a better aesthetic feel and you never know when a particular saber is discontinued.
3. The build quality
Most FX lightsaber hilts are made from aluminum. You can also find plastic versions of them that come at a lower price. The quality of the LED inside the blade also matters and how long it's going to last. Depending on these the pricing will vary.
4. Light and sound effects
FX lightsabers are usually known for their light and sound effects. You will find sound and light effects on clash, swinging, and during the on/off phase. Some of these effects can vary depending on the theme of the saber and the source. A few lightsabers even give you control over the sound note and you can customize that to your liking. Having a  mute feature on a saber could be handy as it will allow you to play even when everyone is sleeping.
5. Battery functionality
Usually, FX lightsabers use AA batteries. A few of them can have rechargeable batteries but that's only a handful of them. You should be prepared to invest some extra bucks on batteries over the years of use.
6. The blade design
The kind of blade you want will definitely impact your purchase decision. Do you want a red LED blade to become a sith or do you want to become a Jedi? Do you want a straight blade or a curved-hilt blade like the one Dooku uses? Do you want a detachable saber that can also turn into a double-bladed saber? Or, Do you want RG in the blade? Answering these questions will definitely help!
Can You Duel With Force Fx Lightsabers?
Yeah, you can duel with a few of the FX lightsabers. But most of them are not built for dueling. Especially, the lightsabers from the black series, you can't duel using heavy force. Light dueling won't be harmful. For the best dueling experience look for Fx sabers from third parties and look for budget options, so you won't make a huge loss if they break.
Final Words
So, what's the best Force FX lightsaber? We leave that up to you to decide. In our opinion, the Black Series Darth Vader looks stunning and the quality is unmatched. You can go for it if you want. Alternatively, the Count Dooku saber could be a game-changer if you managed to get your hands on it. That's all for now!!