The answer is no because it's highly unsafe. Age and size are two of the most important factors when it comes to ATV safety. AAP or the American Academy of Pediatrics don't even recommend ATVs to children below 16.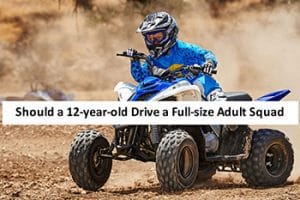 But currently, in most states, children below 16 are allowed to ride ATV for recreational and utility purposes (off road). 
Youth quads come in a wide range of sizes and shapes and aren't even nearly as powerful as adult quads. So if you want to let your 12-year-old taste the thrill of off-roading, pick an age-appropriate youth ATV. It's not only safer but also much easier to ride for a tween. 
Why Should You Never Let your 12-year-old Drive an Adult Quad
ATV stands for All-Terrain Vehicles which is a bit of a misnomer considering they aren't suitable for all terrains. Off-roading with ATVs is all fun and games until the rider loses control. 
Adult quads can be difficult to control, even for a skilled 12-year-old. The driving comfort and efficiency depend a lot on the size of the vehicle. Most kids below 16 don't have the build to reach the controls easily. 
This means they lack the physical capability to quickly shift the weight, speed up or slow down according to the changes in road conditions. This is the perfect recipe for a disaster. 
Improper posture, lack of balance, and being overwhelmed by the high speed can cause the quad to topple over or crash into a wall or something. 
According to this report, 135,000 people get injured every year globally in ATV-related accidents. ATV causes over 700 deaths annually and get this, ⅓ of them are children below 16 years. 
While some of these deaths and injuries occurred due to faulty vehicle parts, most of them are a consequence of poor driving skills or recklessness of the driver. 
The safest ATV models for 12-year-old kids run on low-speed engines and specifically designed to allow tween an easy access to the controls. 
Due to the rising popularity of youth quads, child and teenager fatalities in ATV-related accidents have decreased dramatically over the years. 
What Makes Youth ATVs Safe for 12-year-olds? 
As someone who has taught two kids to ride an ATV, I can tell you that these vehicles are perfectly safe (and super fun) as long as you follow all the safety precautions. 
My 12-year-old twins ride youth ATVs that use 110cc engines which clock at 30-35, depending on the road conditions. That's a safe speed for 10-12-year-old well-trained riders. 
Youth ATVs also come with a bunch of safety features to help anxious beginners ease into driving an ATV. 
For instance, the models I got came with a remote-controlled engine kill switch. So during the training sessions, whenever I found my kids speeding or about to hit something, I could cut off the engine power from 15 ft range. 
During the first couple of weeks, I used the onboard speed governor to reduce the safe speed limit to 8 MPH. 
Below I have summed up the features that make youth ATVs safe and enjoyable for pre-teens: 
They are the perfect size for their build. While choosing an age-appropriate vehicle, make sure there's only a 3-3.5" gap between the seat and the rider's pants when they are standing up. 

Built-in speed governor or throttle controller is a must as it allows the parents to dial the speed limit down to 5 MPH. 

A reliable youth quad should come with a remote-controlled kill switch that has a range of minimum 15 ft. It will allow you to avert a disaster without moving an inch. 
Safety Rules Every 12-year-olds Must Follow When Riding an ATV
ATVs aren't the shortcut to disaster as long as the rider sticks to the basic safety rules. Below I have outlined the ATV safety rules for kids below 16 years as issued by AAP: 
Don't allow children below 16 to drive a full-size ATV. Choose a low-speed youth ATV instead. 

Wear helmets with face shields/visors along with reflective clothing, sturdy shoes (avoid flip-flop), and protective eyewear. 

Although the name has "all-terrain" in it, ATVs aren't at all safe to ride on public roads. Make sure your kid doesn't attempt to cruise around paved roads or driveways on their quad. 

Avoid riding double. Most youth ATVs aren't designed to haul two passengers. Putting extra load can throw the vehicle off balance. 

Avoid nighttime riding. 
In Conclusion
Apart from extensive riding and safety training, choosing an ATV according to the size, physical, and emotional ability of the rider is the most effective way to avoid injuries. 
Under no circumstances should a 12-year-old ever drive an adult quad. It's too powerful for a child to tame and is simply not worth the risk.