Baby floaties are an indispensable part of pool parties when family and friends get together.
You can't keep your baby out and enjoy all the fun yourself.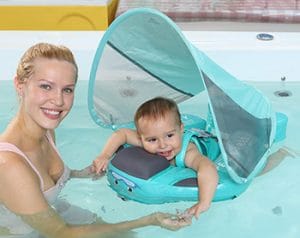 But… babies are fragile and sensitive. You just can't leave her under the sun. You need to get a floatie that has a canopy attached to it.
The reality is most floaties either don't have a canopy or have a flimsy one that gives no protection.
This is why we are here! We tested out 20+ floaties to analyze the quality of the canopy and the floatie itself. And.. finally, this list of the best baby floats with canopy came to reality.
Check them out for yourself.
10 Safest Infant Pool Floats With Built-In Sun Canopy
1.

Mambobaby Baby Swim Float with Canopy
Mambobaby is an immensely popular baby swim float with built-in shade. Babies can enjoy pool time for hours as the canopy will save them from heat. Its standout feature is the ability to fold it into small size which makes it great for travel.
It's an inflatable float. So, all you have to do is blow air inside and it will be ready to float in no time. You can use a manual pump, but that won't be necessary. When folding, you just have to let the air out by opening the inflation port.
The float can be used in two ways. Your baby can either be on her back or on her chest with different buckle methods. The buckle has 5 point safety mechanism which should give you peace of mind. With some practice, you can unbuckle it with one hand and use the other hand to hold the baby.
We found the float to keep its balance and there were no issues of flipping over. As the float is designed to keep the baby at a 40-degree angle, this could be the reason why it won't lose balance.
The canopy attaches easily with the float. It provides enough coverage to protect the baby from the sun. Even the material quality is quite good as it absorbs a lot of heat. With time, the canopy might fade and become discolored. This is the one issue you can definitely live with.
2. HECCEI Airplane Mambobaby Baby Float with Sun Canopy
Heccei makes better baby pool float with shade canopy compared to a lot of similar brands. Its canopy is UV-proof and is covered with UPF 50+ sunscreen coating. Your baby will be super protected when swimming with this floaty.
The flat can be used for backstroke, breaststroke, and standing. The backstroke supports a baby up to 6 months of age and the other two positions up to 24 months.  Like a lot of modern floaties, Heccei also has a 5 point safety buckle.
The deal maker feature of this floatie is the removable shark tail that attaches to the rear part. This provides stability and prevents the floatie from flipping over. Even if you try to flip, it will hold its position. Moreover, the outer covering of the float is made from skin-friendly leather. Babies can sit on it for long hours without any rash or itching.
You can easily inflate and deflate the floatie and it can be packed into a compact shape to carry with you when you are traveling. On the inside of the outer cover, there is a waterproof film. It keeps the floatie dry and you can pack it in no time as you don't have to wait.
The one issue that might not please you is it's a bit time-consuming to assemble the canopy. The manufacturer should focus more on the fitting of the canopy.
3.

LAYCOL Baby Swimming Pool Float
If you want to be assured that your baby really enjoys the time in the pool, Laycol could be one of your top choices. This is a unique float with a lot of useful features. Get this swimming float with umbrella and never worry about sunburns again.
It has a double-layered air chamber to keep it secured if one of the chambers bursts. The floatie will still float and keep the baby safe. The most unique feature we found was the double airbags at the back. These airbags are non-detachable and ensure that the floatie stays balanced all the time.
You can keep your baby on his back or on his chest. There are two buckle methods for both these positions. It's not a swimming aid. However, it will help your child to get used to the water. The design of the float is as such baby's face will never touch the water.
The outer cover is made of PVC. But don't get afraid. This PVC is 100% safe and non-toxic. It passed all CPC standards which means it's safe for your baby's skin.
Laycol, according to our test and observation, is the best baby float with canopy. The canopy is UPF 50+ and it can absorb quite a lot of sun rays and heat. So, your baby can swim for hours without discomfort. Moreover, the side of the canopy has mesh material, so the baby's view will not be blocked.
4. SwimSchool Deluxe Infant Baby Pool Float
Swimschool brings you a uniquely designed baby float with shade. The white, blue and yellow color contrast will attract any toddler. All you have to do is take your baby to the pool and set her up in the floaty.
Like the previous floaties, this one also has dual air chambers. Dual air chambers make sure that if one of the chambers leaks, there's a second one to keep the baby floated. What we loved most is the float is made 20% wider compared to other floaties. This gives extra stability and protection against flipping over.
The canopy on this float is adjustable and has a range of 120-degrees. So, you can adjust the shade depending on the position of the sun. The only issue is it doesn't offer enough coverage on the front. But it's still good enough to save the baby from the scorching heat.
The quality of the canopy itself seemed good. It has a mesh play area inside. You can throw in some toys and your baby will be able to play and rejoice the time in the water.
5. SwimWays Inflatable Baby Spring Octopus Pool Float
If you want your baby to have a thrilling time at the pool, you can try out the Swimways floaty. It's not just a flotation device, it's an entertainment center.
Here's why we like this floaty most. It's got a wide base and dual air chambers. Both of these are added to increase the floatation capacity of the float. Moreover, it has a patented inner spring that adds stability.
Swimways is one of the best floats that come with a canopy. Its canopy has a UPF 50+ protection which is able to resist heat and sunrays. On both sides, there are mesh areas and it will be easier for you to keep an eye on your baby, or maybe just to see how she smiles while playing.
The fun part is the center play area. It has an octopus character that rotates 360 degrees. And.. there are four tentacles all equipped with different toys. There's a squeaker fish, stacking rings, fish teether, and soft-touch star. Kids go crazy over this stuff. Also, just around the baby seat, you will find a mesh area. This allows water to come up and your baby can splash.
The only thing that could have been added is a pump. This thing isn't easy to inflate with your mouth. You can get an inexpensive manual air inflator to get this job done.
6. Punada Baby Pool Float
Floaties keep on deflating! That's a common issue in this category. However, Punada floaties keep their shape for days and you won't have to keep on inflating it over and over. We think it's the best infant pool float to have a canopy because the quality of the materials is so good.
This float is made from super durable PVC which won't leak or burst easily. The fact that it can hold weight up to 44 lbs speaks of its heavy-duty build. For safety reasons, it has two sturdy handles on each side. You can grab these handles and keep the floaty close to you while your baby relaxes.
What we loved most is the steering wheel in front of the baby's seat. You are right it's steering that rotates and also has a horn that makes beeping noises. Kids of this age will love to play with it and maybe even become imaginative. Great for your baby's mental development.
The included canopy is easy to attach and detach. In our testing, we found that some canopies are hard to attach/detach, but not on this one. So, you won't have to waste time assembling this floaty.
7. SwimWays Inflatable Swimming Pool Float
Here's another flotation device for babies with canopy from Swimways! It's designed to fit small babies as the sitting area doesn't have any holes. The baby has to sit on his back and this position is the safest for tiny babies.
This floaty has a wide base accompanied by dual air chambers. These features are a sign of a good floaty as they help it to increase buoyancy. Like some of the other floaties, it also has an innerspring around the outside edge which makes it highly stable.
We haven't found anything negative about the canopy so far from our analysis. It's a detachable canopy and has UPF 50+ sun protection. You can also decide to leave it unattached if the sun is not so hot. The canopy has mesh sides and you can keep an eye on your baby through it.
Around the seat of the baby, there is a mesh area. You can keep your baby's toys in this area. Water can seep through this area and babies can splash without actually going into the pool. On top of that, the seat of the baby has a 3 point harness that will keep the baby in place securely.
The fact that the float doesn't have leg holes is great for small babies. However, bigger babies would not find it much comfortable.
8.iGeeKid Baby Inflatable Pool Float
iGeekid is different and unique from a lot of other floaties we tested. It's designed to resemble a car and certainly, your baby float will stand out from what others have bought.
This float is made of eco-friendly PVC. So, you are doing no harm to the environment. Moreover, the PVC used here is thicker than normal and it seemed to us that it will stand the test of time. The seat where the baby will be positioned is comfortable and easy on the baby's bottom.
Apart from the unique automobile design of the float, it's also equipped with a steering wheel. Babies can hold onto it and also rotate it just like how a real steering wheel works. It also has a horn that honks. So, whenever your kid will be in this float, she will be thrilled and excited.
The canopy covers the entire top part and gives ample coverage against the sun. It has a UPF 50 rating which means it will be able to block off sun rays.
One more thing to consider: despite this float being large and wide, it still folds into a compact shape and can be transported easily to the pool.
If your baby is over 20 months old, this float won't work. It doesn't have much headroom above the seat, even though it's advertised as having a weight capacity of 44 lbs.
9. Flyboo Swimming Pool Toddler Floaties
The Flyboo pool float comes with a fun and exciting design. It does look like a real shark when the canopy is attached. Fancy floats are often garbage. However, this one is an exception, and based on our evaluation it's one of the best baby floats that come with a canopy.
The float material is made from high-density PVC. The weight limit of 55 lbs speaks for the build quality of this floaty. It also has two handles on each side that will help you keep the float close to you.
If you take a closer look at this shark float, it has two fins on each side a large tail at the back. These are not just for aesthetics. They add stability to the float and prevent tipping over.
We loved the fact that there are bells inside the float. The sound isn't obnoxious at all. Instead, it makes a soft little sound that can stimulate and entertain your babies.
The canopy is easy to attach and detach. It's adjustable and you can play around with the opening of the shark mouth to have fun with the baby. However, the one issue we found is the canopy needs regular adjustment as it closes itself sometimes.
10. Weefloat Baby Flamingo Float
Sometimes simple is better. Weefloat is one of the cutest floaties we have ever seen. It has the shape of a swan and your little baby will look absolutely gorgeous in it.
It doesn't have a lot of bells and whistles. You just have to inflate it and attach the canopy. That's it. The canopy attaches at the back and gives your little one shade from sunlight.
This float is made from durable and high-quality eco-friendly PVC. you can use it confidently for years. Keep in mind, like the other floaties, it doesn't have extra safety features like tails or a dual inflation chamber. So, you need to supervise your baby at every step.
Things to consider when buying a baby float with canopy
1. The quality and functionality of the canopy
Let's face it. Canopies that come with floaties are not made for heavy-duty use. Their main function is to provide just enough protection from the sun.
Even so, we tried to include only floaties that have the best quality canopies. If the canopy has UPF 50+, you should definitely give it more priority. This means the canopy can resist heat and sun rays.
You can also look at how well the canopy attaches to the floatie and if it is easy to attach/detach. Some canopies have mesh on both of their sides to give more viewing area. So, keeping eyes on the baby becomes easier.
2. Buoyancy and stability
Some floaties are equipped with special attachments that make them more stable and balanced. You will find all kinds of things like tails, fins, and bubbles.
These features won't make the floatie unsinkable. However, they will add extra safety and prevention against tipping over
3. Leakage-resistant design
You should also take a look at the quality of the float's material. Strong and durable PVC will give you more peace of mind.
Moreover, you can also look for double air chambers. Having two air chambers means if one of the chambers leaks, the other will hold up.
4. Entertainment features
Entertainment features on floaties include rotatable steering wheel/animal heads, horns, and mesh play area. These aren't compulsory, but having them will be much more fun.
Conclusion & Editor's Choice
You may be wondering which is the best of the best infant floats with canopy? If you are still confused, we like to recommend Mombobaby swim float.
It's a well-balanced float that has a high-quality canopy. Your baby will likely stay safest in this. Or, you can also try out Heccei which offers pretty similar value.
No matter what floatie you buy, never leave your baby unattented. These are just made for keeping your baby floated and not for life-saving.