Kids these days are glued to screens for hours on end. It's hard to get them to put down their iPads and video games, even for a little while.
But getting them outside and active is not only fun, but it's also great for their health. And with this awesome roundup of best outdoor toys for 5 year olds, it's easier than ever to get them playing outside.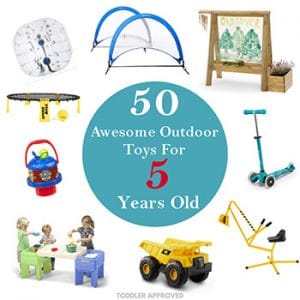 From swings and slides to pools and playhouses, your backyard will be the place to be this summer! But deciding which toys would be suitable for the baby is a real struggle. We know that.
So, here we have done all the research for you and listed some great outdoor toys suitable for a 5 -6-year-old. Check out, choose and order the best out of these best outdoor toys and let the fun begin.
50 Amazing Outdoor Toys For 5-Year-Old
1.

Jasonwell Splash Pad Sprinkler
Outdoor games are fun. And when it combines with water, the fun doubles up. Toddlers can lay or sit or jump inside of this splash pad. It will splash water with adjustable pressure.
It's a perfect backyard outdoor water toy for the summer. Jumping and playing on the pad will keep them away from dirt and mud.
2. Inflatable Water Slide & Bounce House
It's another backyard water activity toy with various playing options. Your kids along with their friends and siblings can spend hours playing in this outdoor mini water park.
This inflatable water slide and bounce house are made of heavy-duty material. It'll take only 2 minutes or less to inflate.
3. HOMILY Gatling Bubble Gun
In our childhood, we used to work hard to prepare our own soap water solution and blow bubbles with it. This bubble gun makes it all so easy for today's kids. Your little fellow can spray 7000+ colorful bubbles with this toy.
4.

Franklin Sports Kids Teeball Tee
Before you take your child to baseball practice, they need to learn the basics about swinging and hitting a moving ball. This Franklin Tee Ball toy can be a good practice for them.
5. Swurfer – the Original Stand Up Surfing Swing
Basically, it's a swing designed in a stylish and innovative way. This surfing swing is made with a curved wooden seat.
It's engineered to move in a wider range of motion and offer more stability than a traditional flat swing. You can easily install it in your garden and ride it yourself since it's also suitable for adults.
6. Peg Perego John Deere Ground Force Tractor
As a toddler, I, personally,  had a big fantasy for riding a tractor. I wish I had one of these back then. Kids can ride this tractor toy forward and reverse. There are two-speed settings and an in-built FM radio that your baby can enjoy while riding it.
7.

TEMI Sand Water Table Outdoor Toys
Sand and water play is a recommended play for kids at their foundation age. This playset has 27 pieces accessories including a water tower, sand beach toys, spoon, watering pot and so on. Such activity encourages kids to use their senses and explore new things.
8.

JOYIN Slip and Slide Water Slide
Slip and slide is the oldest form of fun activities for little kids. This Slip and Slide Bodyboards by JOYIN comes with a built-in sprinkler. Your babies can run, jump, and compete in sliding on this bodyboard full of water.
9. Sandbox Digger Excavator Crane
This one is suitable for kids who love to pretend-play characters. Kids can imagine working on a construction site where they move around things with this digger excavator crane. It has a seat where your child can sit while digging up to 15 inches deep in the sand, dirt or snow.
10. YARD Bounce House Inflatable Bouncer
A big inflatable playhouse is all a preschooler dreams about. Invite your kid's friends for a play and they will love to hangout in this playhouse. There's a slide panel too at the entrance of this little house.
11. Princess Play Tent Playhouse
Make your little girl feel like a princess by gifting her this pink princess play tent. This little castle is one of the best outdoor toys for a 5-year-old girl. At this age their imagination and communication skills develop and these toys help them to explore these skills.
12.Step2 Patio with Canopy Playhouse
Step2 All Around Playhouse is an outdoor playhouse with a canopy. There's a kitchenette area where your kids can do some imaginative cooking and eating.
They can also play with sand and water at the sand station. All in one, it's the perfect playhouse for a kids' party.
13.

RaboSky Bean Bag Toss Game
A great indoor and outdoor toy for 5-year-old kids. It's the classic cornhole game designed for kids.  Playing this game will develop your child's hand-eye coordination, number recognition, various motor skills, and counting skills.
14.

Flying Orb Ball
This amazing Hover ball is a fun play for kids to play both indoor and outdoor. It doesn't need a huge area to play.
The boomerang effect of this hover ball keeps kids entertained. Kids can throw it in various directions and speed, and this flying orb ball will find its way back to you itself. 
15.

Seesaw Swivel Teeter-Totter 
Seesaw is a classic for kids' outdoor games. Bring the Nova Spinning Seesaw and set it up in your backyard. Since it can support up to 150lbs on each side, adults in the family can also ride it.
16.Eezy Peezy Monkey Bars Climbing Tower
Climbing a tower is not only a fun activity. It's a great exercise for a big toddler's age between 3 to 8 years old. Climbing makes kids stronger by developing their muscles and motor skills. 
17. Costzon Ride On Truck
Another suitable outdoor toy for the kindergarten kids can be this red battery-operated electric truck. The little driver can move it around using the steering and pedal. And you can also control it at the same time with the remote control. Sounds like fun, doesn't it?
18.Step2 Up & Down Roller Coaster
The next one in our outdoor toy list is another toy by Step2. It's a whole setup of offering your young fellow the adventurous experience of riding a roller coaster. It will improve your child's physical balance and his eye and hand coordination by riding this coaster car.
19.

HONBO Large Delta Kite 
Flying a kite is more like a skill than just a play. It keeps the kids engaged for hours with excitement and fun. HONBO Large Delta Kite is such a huge and beautiful kite. Get one of these for your kids and fly it with them on a sunny, windy day.
20.

AODI Swing Wiggle Scooter
AODI swing Wiggle Scooter can be a great fun outdoor toy gift for five-year-olds. Preschooler kids enjoy playing physical games that involve operative toys such as bicycles, tricycles, skateboards and so on. Thus, they are likely to have fun with this wiggly scooter as well. It will offer a unique experience, somewhat between skateboarding and driving a tricycle. 
21. Remote Control Car
Toddlers can play remote control cars from the age of 36 months, and once they start, they just love to play with it. There's various features and functions in different models of remote control cars, some come with track, some don't.
 However, this particular model is a remote-controlled stunt car that can spin in a 360° and flip just as your little baby plays it with the remote.
22. Radio Flyer Classic Red Wagon
Wagon is a classic symbol of American childhood. Your little one can play along with his friends and siblings with this beautiful red wagon. Let your baby sit in the wagon seat and drag it with its handle. L:et them enjoy the drag and ride playing in turns. 
23. Giggle N Go Kids Bowling Set
This giant inflatable bowling set is going to be the next favorite backyard game for your children. The bowling set includes a giant size ball and 6 giant inflatable bowling pins with sand-weighted bottom.
It also includes a hand pump to inflate the ball and pins in no time. Arrange the pins accordingly and roll the ball aiming at them.
24.

Moving Shooting Games Toy 
Besides the fact that how much kids love aiming and shooting games, it's also beneficial for their growth. Aiming games develop your kid's eye and hand coordination, and improve their motor skills.
This shooting set comes with a popper gun, 24 foam balls as bullets, and a battery-operated electric moving target. The shooting panel consists of 4 mesh target bags marking various scores.
25.ECR4Kids GUS Climb-N-Crawl Caterpillar Tunnel
Kids play imaginary plays with their friends. And tents, tunnels, playhouses are some important equipment in their imaginary plays. This caterpillar tunnel is designed with colorful plastic climbing structures.
26.SupMLC Snowball Maker
5-year old kids enjoy activity games. And when it comes to playing with snowballs and making snowmen, even adults enjoy that game. These snowball makers will assist your kid making the snowballs within just a second. Your baby just needs to scoop it, shape it and throw it. No one can stop him from being the winner after this.
27. Airplane Outdoor Toys
It's a pack of 4 foam-made airplanes. So, four players can play with the set at a time. Get this set for your child and invite his friends over for a play.
Kids can fly these foam airplanes in two flight modes, horizontal and rotating. For horizontal mode, you need to insert the small wing into the tail hole below. And for the rotating flight, insert it in the tail hole above.
28. Pop-Pass-Catch Ball Game
It's a real fun game package. There are 4 launchers in two colors and 6 ping pong balls. The throwers will throw the ball inside the launchers using the easy-press trigger button, and the catchers on the other side will catch the balls with their launcher. It's a great game for parents to play with their kids.
Best Outdoor Toys For 5 Year Old That Inspire Learning
Make your child's playtime productive. And there's no better way to do that by giving your child toys that are educational and interactive.
We have analyzed these ten products that will inspire your kids to learn through playing with it. So, let's go through our ten picks for best outdoor toys that inspire learning.
29.HearthSong Heavy-Duty Vinyl Inflatable Easel
At the preschooling age, children are the most curious about almost everything. It is the best time to encourage exploring their talents and skills.
This particular inflatable easel set is such one that may explore your child's talent in art. You can inflate this inflatable easel with an electric pump within seconds. It's also very easy to wash with a garden hose.
30.GeoSafari Jr. Kidnoculars Binoculars
The Jr. Kidnoculars Binocular will keep your child engaged and entertained. Using this kid-shaped binocular, kids can explore around themselves and broaden their learning outside the classroom. Wherever you go on vacations, let your baby carry it around with him and see the world better.
31.KidzLane Kid's Metal Detector Wand
Make your little fella's pretend-play a little more fun with this metal detector wand. This toy encourages kids to explore things around like a detective. Who knows, you might be raising a future Sherlock Holmes at your home.
32.

Outdoor Explorer Kit
Another great educational toy set for kids. Your child can imagine so many different characters with each of the toys this set has. The set includes binoculars, magnifying glass, butterfly net, critter case, a hat, and a backpack. In short, the toy set has everything a child needs to explore around in nature.
33. Qtioucp Kids Gardening Tools
This gardening tool set includes one wheelbarrow, one hand trowel, one hand rake, one hoe, one hand plow, one sprayer and one watering can. Your baby will have everything they need for gardening. You just need to assist your little gardener while planting. Gardening is a great practice that teaches children patience, care and the sense of responsibility.
34. Steps Balance Stepping Stones
It's not that your child is going on a trip to Jurassic Park. But, stepping stones help to get them ready for any adventure ahead. It also helps them improve their color-coordination, body and eye coordination and balance.
35.

Hyponix Ninja Tree Climbing Kit 
The Hyponix Sporting Store Ninja Tree Climbing Kit consists of 16 Rock Climbing Holds for 8 Ratchets to climb a tree. The straps are 10ft long. So, you can set it up on any size of trees. The size of the holds are also large and it can support up to 250lbs. Overall, it's pretty safe for kids.
36. Crayola Washable Sidewalk Chalk Set
Crayola Chalk set will encourage the artistic mind of your little one. The set has 72 different colored chalk. The stain of these chalk can be wiped off very easily with just a piece of cloth and plain water. So, you can set your child free to draw anything on any surface without worrying about the mess. 
37. Rocket Stunt Planes Launcher
This one is basically a STEM toy that encourages your kids to learn the science behind the play. There are three sturdy adjustable rocket launchers with stomp pad and three foam stunt planes.
Get your kids to hop on the stomp pad and race in how high they can take their flight. If you try to explain the stomp rocket science before starting the game they will find it even more exciting.
38.

Obuby Kids Fort Building Kit 
Get the Obuby Kids Fort Building Kit and let the little engineer design and build their own fort. This constructive game will help them use and improve their analytical ability.
Best Outdoor Toys For Active 5-Year-Olds
Each child has some distinctive characteristics. Some kids are extroverts, whereas some are introverts. Some love to study, on the other hand, some enjoy physical and intellectual activities.
It's also important to consider your child's unique personality before choosing a toy for them. In this section we have selected 12 outdoor toys for active toddlers that are never tired of running and jumping and having some fun.
39. Skywalker Trampolines
Trampolines are fun at any age. And this Skywalker Jump N' Dunk trampoline is designed with enclosure mesh and ultra comfortable foam padding surface. This is one of the safe and Interactive Outdoor Toys for 5 year olds that is worth every penny. 
40.

Flybar Foam Maverick Pogo Stick
If nothing tires your naughty little fellow, this one will. Get the Flybar Foam Marveric Pogo Stick and let your kid hop on it all day long. Active toddlers love to play with this toy.
41. Swing-N-Slide PB 8360 Ranger Wooden Swing
The classic swinging is and always will be a super-fun outdoor game that never goes out of fashion. This swing set will allow at least three kids to play at the same time. Its Plastisol coated chain ensures safety. And, the amount of fun your kids will have is unmeasurable.
42. Franklin Sports Youth Football Goal-Post Set
Football is the best outdoor game for active little kids. Get and set this football goal post in your backyard and start the game right away. It's easy to setup and you can also adjust the height for the convenience of your child.
43. PUGG Portable Soccer & Football Goal Boxed Set
To make the football experience a little better, you can set up this collapsible soccer net. It's easy to set and fold for storage. Just open the net and secure the pegs by shoving it in the ground.
44. Activ Life Kid's Flying Rings
The Active Life Kid's Flying Rings are basically the classic frisbee in a new fashion. These flying rings are designed to float if they fall in water. Besides, it's been designed with pain-free edges. 

45. Squirrel Products Climbing Rope
Set this climbing rope ladder in your backyard and let your toddler climb up using this ladder. It can be used for climbing a tree or a high wall. Climbing up a tree is a great activity for your child's physical health too.
46. Banzai Bump N Bounce Body Bumpers
Blow up the inflatable Bump N Bounce body bumpers and let your kids enjoy belly bounce. They can bump and bounce with each other, roll on the ground wearing it or start a race of humongous human balls.

47.HearthSong SkyCurve Platform Tree Swing
If you have multiple kids, don't miss out on the fun of this oversized swing. It's not like a traditional patio swing. It's a tree swing that can hold up to 400lbs weight. So, siblings or playmates can all hang out together on this big tree swing.
48.

EzyRoller Classic Ride On
With this self-propelling ride on roller is a fun outdoor activity. It has an adjustable height bar to allow you to adjust it for your child to sit comfortably. Kids can ride on it and race with their friends. There's multiple other ways to play with this EzyRoller Classic Ride On.
49. Costzon Kids Go Kart
This four wheeler ride-on kart can be an interesting time pass for your preschooler child. Plus, they can get the adventure of riding a real vehicle themselves. Basically it's a bicycle with 4 anti-slip wheels. It offers great support for new riders.
50. Toysmith NightZone Orbit Light Up Skip Ball
You can keep your little love busy for hours hopping on with this skip ball ankle toy. The rule is simple here. Just put on the ring in one ankle and spin the orbit ball attached with the cord.
Wrapping Up
Childhood is the best period of each individual's entire life. You will never feel the joy, excitement and all the good feelings as you used to feel in your childhood. That's why as a parent you should do everything you can to make your kid's childhood better. 
And, to make that possible, you need to divert them from screens and encourage more outdoor activities. Through this post we have put our best efforts in analyzing and testing some great outdoor toys before recommending them for you.