Need a powerful first time ride-on toy for your kids?
We covered some of the best 24volt battery-powered ride-on toys in the market. At 24v, the toy will be powerful enough to ride on different surfaces with over 40 minutes run time.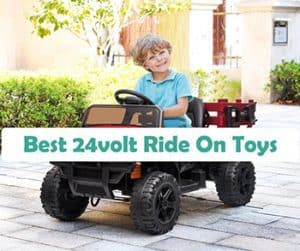 If your kid's age is 6-8 years or older, less powerful ride-on toys will make them bored. Whereas a gas-powered ride-on toy might be too aggressive and hard to handle for kids at this age.
A 24 v toy vehicle is the sweet spot that you have been looking for.
Check them out!
10 Best 24volt Battery-Powered Ride On Toys 2023
1. Razor Dirt Quad 24V

Wheeler 

Ride On Toys
Top speed: 8 mph
Weight limit: 120 lbs
Run time: 40 minutes
The Razor Dirt Quad is the best ride on battery powered toy to buy before you actually convert to a real gas dirt quad. It's got all the functionalities like a real quad would and that makes it special.
The pneumatic tires make it suitable to ride on all terrains (grass, gravel, mud, concrete) and if they run out you can replace them easily. Moreover, there's suspension on the rear wheels which make riding less bumpy.
The twist throttle will allow your little one to change speeds like on a real quad. There's also disc brakes on rear wheels which can be controlled by the hand lever. The handlebars are adjustable so your kid can use it as he grows.
This quad is strongly built with steel wheels which have precision ball bearings, welded steel frame and shattered resistant plastic. Although the recommended age is 8+, kids over 5 years old can still use it as the speed isn't so high.
One of the few drawbacks is the Razor Dirt Quad doesn't have a reverse gear. It also doesn't have working lights or any speed limiter. But these things are not dealbreaker.
2.

Peg Perego Polaris RZR Ranger Ride On Toys
Top speed: 7 mph
Weight limit: 150 lbs
Peg Perego is immensely popular among kids 5-10 years old and it does look and work like a real ranger. It has a solid build quality and the best thing is there's two seats for two kids to have fun together.
To get you an idea of the space inside, the distance from the seat to the foot pedal is 23" and the floorboard to dash area is 16". That's good enough for your kid until his 10th birthday.
This ranger features real steering so your kid can get the feel of a real car. Moreover, the passenger side has a handlebar so the other kid can hold onto safely. The gear has a speed lock mechanism that will allow you to restrict your child to 3.5 mph or go full speed at 7 mph.
This 24 volt ride on toy is well constructed and design wise it looks brilliant. In front of the steering, there is an off-road windshield and just over the seats there are a few fake lights. If your kids love to carry their toys around, they can use the vacant back compartment as well.
One of the issues we found was the seat cover was really hard to put on and it also keeps getting off frequently. Other than that, Peg Perego is definitely worth buying.
3. Razor Ground Force Drifter Kart Ride On Toys
Top speed: 12 mph
Weight limit: 140 lbs
Run time: 1-1.5 hours
The Razor Ground Force is the ultimate ride on toy to experience drifting unlike any other similar toys in the market. It's geared towards kids who have prior experience to riding and is intended for riders over 8 years old.
This could be the best 24v battery-powered ride-on toy ever and much because of how fast it goes and the high run time. Even after a year of full use, it can still provide 40 minutes of run time. And it recharges in just 3 hours, so the playing time is not limited.
The wheels are made of plastic, so they aren't made for grass. Riding is made easier with a thumb trigger and hand-operated rear brake. Keep in mind it doesn't have a suspension and it's recommended to ride on a level surface.
To make drifting more fun and realistic, there's a spark cartridge attached on the rear wheels and your kid can make sparks as they ride on it. The spark cartridge can be availed from the manufacturer when it wears out.
If you want, you can experiment with this drifter and convert it into gas or change the rear wheels and make it into a regular ride-on kart.
4. Razor Dune Buggy 24V Ride On Toys
Top speed: 9 mph
Weight limit: 120 lbs
Run time: 40 minutes
The Dune Buggy can be a justified alternative to the Razor Ground Force. This one is intended for riding rather than drifting. It's one of the few 24 volt rides on toys that come with rubber tires, so it will perform well on different surfaces.
Like the Razor Ground Force, the acceleration is installed as a thumb trigger and a hand brake for extra safety. It's safe for kids less than 8 also. In that case you will have to rotate the throttle towards the driver for easy access.
On a full charge, the battery will last 40 minutes or longer even if your kid rides it on grass. But you can swap the batteries for two 12v 10ah lithium batteries and that will keep your kids riding longer.
The frame is made from a 3/8-in steel tube. Not only that the wheels, column and the frame of the gear and motor are also made from sufficiently thick steel. Despite that, the vehicle is pretty lightweight and you can store it vertically with ease.
The only drawback we could find is it doesn't have a reverse mode. Overall, the Dune Buggy could be a promising first time power wheel for your kids.
5. Razor Pocket Mod 24V Electric Scooter Ride On Toys
The Razor Pocket Mod has the fastest speed among all rides on toys in this list. That's the reason we think it's the best 24volt battery-powered ride on toys you can find on the market. It's also available in 4 colors suitable for both girls and boys!
Razor pocket functions almost like a vintage scooter only that it's electric. The seat is nicely cushioned and is comfortable to sit and ride. There's also a dual kickstand that can keep the ride-on scooty upright. Although, it could be a little hard for kids to pull up the stand.
The scooter has a length of 4 ft and the seat is positioned 21-in from the ground. Considering the speed, weight limit and the size, it should be good enough for children from age 8 upto 12 years. So, there's room for growth.
It operates using a twist throttle like in real scooters and has a hand operated brake. The fun part is you can lift the seat up and there's a small storage compartment. Your kid can use it to store water bottles or toys!
It would have been better if the scooter had at least a front headlight. But you can always install one later.
6. Razor MX400 24V Electric Motorcycle Dirt Bike
Top speed: 14 mph
Weight limit: 140 lbs
Run time: 30 minutes
The Razor MX400 is an authentic-looking 24v dirt bike that your kid will love riding. It boasts a powerful motor that can go up to 14 mph, so it's intended for children over 13 years of age.
Its frame is made from steel and shatter resistant plastic. What makes it realistic is it has 12-in pneumatic knobby tires. So, your child can get traction on rough surfaces. However, because it doesn't have a shock absorber, we recommend riding it on level surfaces.
To operate this bike, there's a twist throttle and hand brake. Good thing is they are located just in the right places. So, when you finally convert to a gas-powered bike, your child can start riding in no time.
But wait. The MX400 has a cool safety feature that's less common in ride on toys. If the rider presses the brake and the throttle at the same time, the throttle will stop working. The braking system will take over and keep your child safe.
One of the issues that many users have reported is it takes a long time to charge when compared to its low run time of 30 minutes.
7. Radio Flyer Ultimate Go-Kart 24V Ride On Toys
Top speed: 8 mph
Weight limit: 81 lbs
Run time: 45 minutes
Here's another Go Kart for drifting and sliding around, The Radio Flyer Ultimate. It won't drift harshly and that's the reason children from 3-8 years old can ride on it.
Radio Flyer is one of the best 24-volt battery-powered rides on toys for its easy controlling and extra wide rear tires. The tires aren't made from rubber, but have rubber traction on the front tire. So, it can perform on grass as well to some extent.
This kart can be driven in 3 speeds: 2.5, 5 and 8 mph. The top speed mark is more suitable for drifting. But if you fear your little one speeding up, you can lock the speed to the lowest level.
For safety, there's a seat belt and a long pole with a racing flag. The racing flag will make the kart visible to other nearby vehicles as it's quite low to the ground. It doesn't have a manual brake. However, as soon as the rider takes off foot from the pedal, the brake will engage automatically.
We were also impressed by the battery safety feature. When the battery is low, it will stop working for some time and then turn on again. This will let you know that it's time for charging while saving the battery from depleting.
8. Modern Depo 24v

Electric Ride-On Car Toys
Top speed: 3 mph
Weight limit: 66 lbs
Run time: 30 minutes
At just 3 mph top speed, this jeep from the modern dep store is the best battery powered ride on toys for 2 year olds. Toddlers up to age 5 can have fun with realistic steering and foot pedals.
Even if your 2 year old can't reach the foot pedal or the steering, you can use the wireless remote control to steer the wheels or to make it stop. So, parents can have fun too.
This ride-on toy has suspension on all four wheels. Even if the road was bumpy, your little one will feel nothing and stay secured inside. For more safety, you can keep the speed at the lowest setting which is close to 2 mph.
The vehicle comes equipped with a music player that can keep kids entertained while driving. Moreover, the openable hood can be a great place to store toys and stuff. It does have working headlights and rear lights, so driving at night is an option.
While the vehicle functions pretty well, we are a bit skeptical about its overall durability. But it sure is good enough to last for a year or two.
9. Joywhale 24V 2 Seater Kids Ride on Car Truck
Top speed: 4 mph
Weight limit: 130 lbs
Run time: 1-2 hours approximately
If you want a high-quality remote controlled ride-on toy, you have to have a look at the Joywhale Car Truck. The top speed is kept low at 4 mph to allow children as small as 3 years old to ride it safely.
The truck has space for two kids under 4 years old to sit or one kid over 4 years old. The seat belts are a nice addition, but they need to be tightly fitted. The doors have safety locks on them so your children won't fall off accidentally.
You can use the 2.4 Ghz remote control to turn, and brake the truck. It has a 65-82 ft coverage. Even if you accidentally forget to press the brake button, the truc will stop within 0.5s automatically.
The newest model of the Joy whale is equipped with a 25% stronger metal frame and comes with an auto-reset overheat protection that will prevent mishaps like chip burnout and circuit fire. The truck also has an auto front wheel braking when the car is shut down.
10.

Blitzshark 24V Kids Ride on ATV
Top speed: 6.5 mph
Weight limit: 80 lbs
Run time: 1-3 hours approximately
The Blitzshark ATV has that monstrous and aggressive look that kids like on their ATVs. Children aged 3-8 can use this as their first time ride-on toy and learn the basics of handling a vehicle from an early age.
The things that make this the best 24 volt ride on toy are its 13.5" large tires and full metal suspension. Despite the fact that the tires are made from plastic, they perform well on uneven surfaces and can even climb uphill.
This ATV has 3 speed modes: low, medium and lighting. The lighting mode is the highest and it's only activated if the rider presses the lighting bolt sign on the control board for 3 seconds. This ensures that your child doesn't go on full speed accidentally.
We were quite satisfied by the battery life which can reach up to 3 hours while riding on even roads. In extreme cases, where there is an uphill or rough terrain, the run time still reaches 40-45 minutes.
The braking system is good and the vehicle can come to a stop within 0.6 minutes. If the car is stuck somewhere, the driver can use the reverse mode to go back. Along with the vehicle, you will get helmets and other protective gears.
One issue we found was the seat isn't the largest and it can feel a little congested for kids over 6 years.
How to know which 24 Volt toy vehicle you should buy?
1. Type of ride-on toy
The first thing you need to decide is what kind of 24 V ride-on toy you want. Ride-on toys come in various designs and functions. Think of an ATV or Quad, these are 4 wheelers but function more like a bike.
Then there are rangers, jeeps and truck ride-ons that give the experience of riding a car. Or, you can simply get a scooty or motorcycle ride-on toy. Toys like Razor Ground Force are specially made for drifting and can be fun too.
2. Top Speed & Acceleration
Not all 24 volt kid vehicles have the same speed. It depends more on the power of the motor and the design of the vehicle.  If your kid has experience riding other vehicles from an early age, you can go for top speeds of over 8 mph. 
Speed ranges from  3mph-6.5 mph will be safe for kids 2- under 8 years old. Whereas anything over 6.5 mph or 8 mph will be suitable for kids over 8 years of age.
3. Battery run time
Battery run time can be a big decisive factor. On an average a 24-volt battery would provide over 40 minutes of run time. But depending on the functions of the vehicle, the child's weight and weight of the vehicle itself, the battery run time might vary.
In some vehicles, like the Blitzshark, the battery can last over 1 hour on a single charge. The Razor Max400 has a lower run time of 30 minutes. 
4.Type of tire
Most rides on toys with a  24 volt battery will come with plastic tires. These tires are sufficient for kids at this age and provided the vehicle is ridden on mostly even surfaces. Some of the vehicles might have a sort of rubber finish or rubber line running in the center. Those vehicles will perform better on grass.
If you want your kid's ride-on to perform well on a variety of terrains, you will have to look for rubber tires. The Razor Dirt Quad and the Razor Dune Buggy are the only ones that come with pneumatic rubber tires. 
5. Adjustability of handlebar or the seat
Only a few 24 Volt vehicle models have adjustable seats or handlebars. This isn't a compulsory feature considering that you will be changing the vehicle in a year or two. But if you do find it, it's a bonus. The Razor Dirt Quad has an adjustable handlebar!
6. Build quality of the body
The build quality of these toy vehicles will depend on the materials used in the frame. Metal and steel frames will add durability which can handle impacts. You can also check the quality of the plastic as it's used to design the exterior of the vehicle.
7. Parental speed control
A few of the vehicles in this list have speed limiter capability. You will find a speed lock on the gear box or control panel. Some ride on toys like the Joywhale which comes with a remote controller. You can use this to control the speed, steering and braking of the vehicle if your child is still young and can't control it.
8. Space inside the vehicle
We have a few two seaters in this list. So, if you have two small kids of close age, you can use these vehicles and save money. Peg perego and Joywhale both have double seats and you can check them out.
12volt vs 24volt ride-on toys
The main difference between a 12 volt and a 24 volt ride-on toy is that the 24v toy is more powerful and is more suitable to ride on rough surfaces, grass and uphills.
If you get a 12v toy vehicle, it will draw on more current and drain the battery faster when riding on rough terrains. However, a 24v toy vehicle will offer better run time when ridden on the same surface.
Another big difference is the top speed. You can expect a top speed of over 6 mph  and upwards of 15 mph from a 24 volt system. A 12v system will have the highest speed of 6 mph and not more than that.
How Fast Does a 24-volt ride-on toy go?
A 24 volt ride-on toy can go as fast as 15 mph. The speed will also depend on how the vehicle is built, the weight of the driver and weight of the vehicle itself. Some models can have top speeds of only 3 mph using a 24 v battery system.
Final Words
If you want us to recommend the best 24volt battery-powered ride-on toys among these 10 models, we recommend Razor Dirt Quad and Peg Perego Polaris. Both have a good build quality and are perfect for first-time riders.
But you can also look at some of the other models as well more suited for your kid's age. Make sure you take them somewhere safe and check that the surface is smooth and even for a better riding experience.