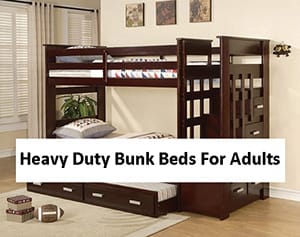 It's a misconception that bunk beds aren't strong enough for adults. Granted, not all bunk beds are created equal. Some can only accommodate the weight of a kid but there several heavy-duty bunk beds too for massive dudes like me. 
You just have to up your research game a bit. Since you have stumbled upon this game, rest assured you are already quite close to what you're looking for. 
We have curated a list of the 5 best bunk beds for adults on the market right now and reviewed them thoroughly. Bunk beds offer an incredible utilitarian value. 
If you live in a condo or college dorm room, make the most of whatever space you have by swapping your regular-size bed with a bunk bed. It will help you maximize the sleeping area without overcrowding the room. Sounds good? 
Cool. Then let's start exploring the options: 
5 Best Bunk Beds For Adults 2021
1.

Stephan Full over Full Bunk Bed
Weight Capacity: 400 lbs (Each Bed)
Sporting a quirky curved ladder design, this sturdy metal bunk bed for adults is both fun and practical. The dark gunmetal finish on the metal frame will add a nice element of contrast to your room. 
It's strong enough to safely accommodate two heavyweight adults on both upper and lower bunks. The upper bunk has side rails to maximize safety. Ideally, you should use a 10-12" memory foam mattress on the bottom and a 6" mattress on top for a snug fit. 
The assembly work is time-consuming but not complex. There are about 100 screws to tighten, so it's definitely a two-person job. If you are good with such stuff, it will take your anywhere between 1.5-2 hours to put together the pieces. You will have to follow the instructions very carefully or it will be a messy affair. 
Pro tip: don't tighten the screws all the way until you assemble all the parts. This will make it easy for you to align all the holes properly, something a lot of users have struggled with. 
Thankfully, the unit isn't that bulky. I also loved the fact that the bed doesn't make that annoying creaking sound like most bunks. Overall, it's a good bargain for the money. 
Pros:
Sturdy metal frame. 

Out-of-the-box design. 

Spacious. 

Wide ladder slats for easy climbing. 

Sensibly priced. 
Cons:
Could take you anywhere between 2 hours to half a day to assemble the bed. 
2.

DHP Twin Over Full Bunk Bed
Weight Capacity: 200 lbs (upper bunk) and 450 lbs (lower bunk)
The streamlined and understated design of this bunk blends wonderfully with the decor of any room, be it a dorm or an apartment bedroom. The brand DHP has been consistently delivering highly durable space-saving solutions at an affordable price for quite some time now. 
Their metal frame full bunk bed bears testimony to the brand's dedication to their craft. The sleeping area is quite spacious for a bunk bed. There's approx 35.5" of headroom between the bottom and top bunk, so the person on the bottom bunk can comfortably sit on it. 
You can fit a standard full-size mattress on the bottom and a twin-size mattress with a max thickness of 6" on the top bunk. The side rails on the top bunk are quite high. Even with the mattress, it remains approximately 4" above the mattress, preventing you from rolling out of the bed in sleep. 
The bed comes with metal slats to support the mattresses. And as for the build quality, the heavy-duty metal frames are not going to decay anytime soon. Given there are a lot of pieces to assemble, you should call for some help. 
The good thing is the instructions are well-illustrated and the box includes extra pieces of hardware to make the installation process smooth and hassle-free. 
However, the manual does leave out one important note. Resist the temptation to tighten all the screws until the very end. However, once you're past the ordeal, it's a bed of roses from thereon. It's quite silent for a bunk bed, no creaking issues whatsoever. 
Pros:
Includes extra hardware for seamless installation. 

Comes with metal slats for extra support for the mattress. 

High side rails on the top bunk. 

No sharp edges sticking out from the sides. 

Long-lasting satin finish. 
Cons:
You might have to bend your twin mattress a bit to fit it into the top bunk. 

Assembly could take hours as there are many small pieces to deal with. 
3.

DHP Silver Screen Metal Bunk Bed
Weight Capacity: 200 lbs (upper bunk) and 600 lbs (lower futon bed)
Up next on our list of high-quality bunk beds for adults is a sleek and stylish convertible bed bunk that can add a black accent to your bedroom. 
College students who seek the comfort of a bed and the convenience of a gaming couch rolled into one affordable unit will get a lot of use out of this convertible. 
The bottom part of the unit is a couch that effortlessly transforms into a plushy 8" queen size futon bed, helping you make the most of every square foot you have in your room. 
For optimal sleeping comfort, I'd suggest buying an 8" memory foam futon mattress for the bottom and a 6" twin mattress for the top bunk. Note that even though the top bunk is rated for 200 lbs, don't let anyone weighing over 150 pounds crash on it for their own safety. 
The bed is fairly easy to assemble and the instructions are easy to follow. I wish the legs were a bit wider though as the bed moves a lot every time you go up the ladder. 
Speaking of the ladder, the bottom bunk/futon's reversible side design allows you to flip the orientation of the ladder. The metal rungs of the ladder aren't easy on the feet, something the manufacturer needs to look into. 
Pros:
Easy assembly. 

The bottom bunk can be transformed into a comfy couch. 

Great hardware quality for the price. 

Budget-friendly price tag. 
Cons:
The rungs on the ladder could hurt the feet. 

Wobbles a little when you climb up and down the ladder. 
4.

Max & Lily Bunk Bed
Weight Capacity: 400 lbs (Each Bed)
Gorgeous to look at and highly dependable, this heavy-duty wood bunk bed would be a classy addition to your apartment bedroom. The frame of the bed frame is sculpted from soft New Zealand pine wood and by the looks of it, it can stand the test of time. 
The best part is you can separate the top and bottom into two individual beds, whenever the situation demands. If you are expecting a third family member, extend the sleeping space by adding a twin-size trundle bed to it. 
Alternatively, you could also order an extra set of drawers for stuff your bedroom doesn't have enough space for. 
The guardrails on the top bunk are 15" high to maximize safety. Try looking for a low-profile twin-size mattress, ideally 6" thick for optimal safety. Assembly is quick if two people are at it and the instructions are totally on-point. All the hardware, including an Allen wrench, is included in the box. 
My only complaint would be that the slats on the bed are too far apart. You might have to add more slats or get a firmer mattress eventually.
Pros:
Add-ons like extra trundle bed or drawers can be separately purchased. 

You can separate the top bunk. 

The ladder is reversible. 

Huge head clearance. 

15" high guardrails. 
Cons:
The slats sit too far apart. 

No screw hole covers. 
5.

Walker Edison Modern Metal Pipe Twin Bunk Bed
Weight Capacity: 250 lbs (Each bed)
Up next on our list of the best bunk beds for adults has a really small footprint, making it another great tight-space solution. What's really impressive is that the soft paint and trim lines can make tiny rooms look bigger than it actually is. 
Many interior decorators take the advantage of such optical illusions to create the impression of a bigger, more inviting space. 
The bed is big enough for six-footers like me and can be safely used with 6-8" thick memory foam mattresses. You can set it up alone under 2.5 hours if you follow the instructions on the box closely. 
The construction itself is pretty sturdy and moving up the bed closer to the wall and tightening the screws periodically can stop the little squeaking issue a lot of users have spoken about. 
My real gripe is with the design of the ladder steps. They are cylindrical shapes and don't exactly go easy on the feet. 
Pros:
Unique design makes small rooms look bigger. 

Fuss-free assembly. 

Sturdy construction. 

Big enough for 6"+ individuals. 
Cons:
Light squeaking. 

Climbing the ladder barefoot is seriously painful. 
What to Look for When Buying Bunk Beds for Adults
Gone are the days when bunk beds used to be just meant for kids. With the growing popularity, a lot of manufacturers ventured into making extra- sturdy bunk beds for adults. 
It not only maximizes the vertical space but also adds an element of privacy in shared rooms. Here are some of the key aspects to pay attention to when shopping for one for yourself: 
Weight Capacity: Bunk beds for adults should be able to handle at least 250 pounds. Anything lesser than that won't immediately crash the bed but will definitely increase the wear and tear over time. 
Material: Beds, by default, are subjected to a lot of abuse. Metal frames are well-capacitated to withstand whatever challenge you throw at it. If you are a sucker for aesthetics and don't mind coughing up some extra bucks, a high-density wooden bed would be a nice option too. 
At any cost, avoid plastic-based materials. No matter how sturdy they are advertised to be, they aren't strong enough to handle the weight of average build adults. 
Safety: Make it a point to check the ladder construction, stability, and the height of the guard rails from the base before finalizing your purchase. As a rule of thumb, the guard rails should be at least 5" above the mattress to prevent falling from the top bunk and hitting the head. 
Design: Twin over full bunk beds are the most commonly recommended designs for adults. Apart from looking at extra inches on the sides, also make sure the bed has enough leg room when you recline all the way and enough headroom on the low bunk to sit upright. 
Convertible models allow you to turn the lower futon into a comfy couch for those weekend game nights and movie nights. They would make a great addition to college dorms and shared apartments. 
Conclusion and Editor's Choice
That brings us to the end of this roundup of the best bunk beds for adults. Bunk beds are a fantastic piece of utility. And not to mention, a lot of fun. They fit in the smallest rooms and provide the much-needed privacy in shared rooms. 
While all the models featured here are built for optimal comfort and safety, if we have to pick just one, we'll be included to vote Stephan Full over Full Bunk Bed. 
With a 400 lbs weight capacity for each bunk, it's structural strength and dimensions make for an ideal crashing pad for adults. Moreover, the bottom bunk is quite roomy and can be easily shared by two skinny adults if needed. What else can you possibly ask for?