Instead of playing with static dolls that do nothing, toddlers can feel more connected with real-life baby dolls that cry, move, and breathe.
The level of impact these kinds of dolls have on babies is unmatched. Playing with such dolls will improve your baby's emotional intelligence, communication skills and develop senses.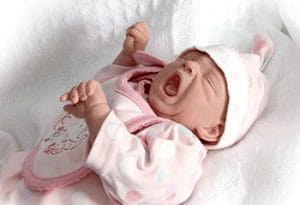 So, if you are looking for such a doll, we will love to assist you to find the best ones available in the market. We have shortlisted five such moving and breathing dolls, we researched how they operate and what makes them special. 
After spending hours of analysis, we have reviewed the 5 best crying and breathing life-like dolls here. Hopefully, this article will help you find your kid's next favorite doll.
| Images | Brand Name | Features | |
| --- | --- | --- | --- |
| | KOOKAMUNGA Doll | Cry and move and breathe altogether | |
| | Luvabella Doll | Move & Breath | |
| | Ashton Doll | Only Breath | |
| | Cry Babies | Cry Real Tears | |
| | Cry Babies | Cry Led Tears | |
5 Real-life Baby Dolls That Cry and Move and Breathe
1.

KOOKAMUNGA KIDS Interactive Baby Doll 
KOOKAMUNGA Expression Doll is the best pick if you are in search of real-life baby dolls that cry and move and breathe altogether. This doll has all of those features in it. And that makes this doll special.
This 16" baby doll feels so real for its facial reactions and the adorable sounds she makes. It blinks and giggles when your child plays with it. If you put the pacifier or bottle in its mouth, it will make a suckling sound which is really cute and baby-like.
When your baby rocks the doll to soothe her, it will make a cooing sound(breath). This is a perfect interactive doll for kids ages 36 months and up. If your baby is younger than this recommended age, she will not understand or cannot differentiate various emotions.
This doll is fairly loud. So, if you want to quiet the sound or stop its motions, you can simply switch off the button behind the doll.
It's a soft-bodied doll. Get this doll and it might replace your little one's favorite hugsy. The doll comes with an in-built outfit. You cannot take it off. But if your baby loves to dress up her dolls, you may buy some preemie size outfits and put them over the in-built outfit.
Kids love this doll and many users have mentioned that it lasts longer than expected as a baby doll. There's just one thing that may bother you. Its lip paint comes off after a very short time due to putting the pacifier and bottle on and off frequently.
Real life Baby Boll That Move and Breathe
2. Luvabella Blonde HairInteractive Baby Doll
Our second pick is the Luvabella Newborn Interactive Doll. When you tickle her she will giggle sweetly. And if you put the bottle in her mouth she will make a suckling noise. 
It has realistic movements and expressions. The way this little doll breathes when it falls asleep will amaze you. Her tummy will rise and fall at a pace just like a real human baby. Kids love to see Luvabella sleeping and listening to her gentle heartbeat sound. 
Besides, the little pink doll has a very snuggly body. Moreover, it's also lightweight, so your little love can cuddle it and carry it everywhere. If you want you can dress the doll up as well since it comes with a removable dress.
Luvabella infant babbles with a cute voice. However, she doesn't speak words or any clear phrases just like how a newborn does. Your child will love to play with it and take care of her. 
In some cases, users have complained that the paint on its head and lips comes off. But it doesn't make much difference in her looks that could bother the child.
Also, you can't reposition the arms and legs of this doll. It moves a tiny bit and it may or may not be a deal-breaker depending on what you prefer. Other than that, this is the best baby doll that looks real and breathes just like a human baby.
Reborn Breathing Baby Doll
3.

Ashton Drake Baby Doll
For some strange reasons, people think reborn dolls are creepy. If you and your kids are not amongst them, then definitely give Katie a try.
Reborn dolls are always fun to play with. They are handmade arts. They look just like a real human child, feel like them, and in some cases interact pretty much like them.
Katie is such a cute reborn doll that will coo and breathe like a real baby. You can feel her heartbeat if you place your hand on her chest as it rises and falls.
The doll has just the right kind of weight to give you the feeling of holding a real baby. Moreover, it features RealTouch Vinyl skin and hand-rooted hair which offers you a completely realistic feel. It's so life-like that your guests might get surprised and confuse her to be the sibling of your child.
It's a perfect gift for toddlers over 6 years and for adults who love to collect fine arts. You can use the little switch to turn her cooing and breathing on and off. Keep in mind, this doll is not designed to be fed.
It does come with some crafty clothes. But you can also dress her up as you wish. The clothes of a 3-6 months baby should fit her perfectly. One of the unique things about Katie is she has curly hair. Some people don't like curly hair on their dolls. But if you put a hat on her, she will look more beautiful and appealing.
Real life Cry Baby Doll
4.

Cry Babies Lady The Ladybug Doll
Kids are obsessed with IMC's Cry Babies series of dolls. These big-headed, cute dolls come in animal-inspired changeable dresses. And it cries real tears. Isn't that amazing?
The doll comes with a pacifier. So, when it cries out loud and sheds tears, kids can put the pacifier in its mouth. The doll stops crying when you soothe her like that. 
The big head makes it a little hard to keep her sitting up. However, the design and outlook make it worth it. You can individually move the head, arms, and legs for more fun.
You need to fill up the compartment on the back with water to make the doll cry. Remind you, it sounds like a real baby's cry. Sometimes it doesn't stop crying even if you put the pacifier in her mouth. And she cries quite loudly.
It might get annoying at times, but no worries. There's a switch that allows you to turn the crying on and off whenever you want.
Some users have complained that the doll leaks water. The reason may be for failing to secure the screw tightly. If you take care of that, it should operate right.
It may seem a bit messy, but kids love mess. So, if you are looking for such a reborn baby doll that cries, give Cry Babies Ladybug a go.
5. Cry Babies Goodnight Coney – Sleepy Time Baby Doll
The Goodnight Coney is similar to the Ladybug doll in many ways but has some extra features that you might like. The best part is it cries without making a mess.
The previous Ladybug doll cries real water tears. But Coney cries LED tears. It's even more fascinating to little kids.
When you take the pacifier away, an LED light in tear shape lights up over Coney's face. And she makes cute crying noises. You can even turn off the sound with the switch if you want.
In that case, Coney will only light up without making any noise. When your baby soothes Coney with her pacifier, its entire face glows up.
On top of that, this doll features a great option that the parents will love. Press Coney's tummy gently and the doll will play 5 sweet lullabies for up to 10 minutes. Parents who are sleep training their toddlers just love this feature as it helps their baby to fall asleep faster.
It has a very soft body and comes with a super soft dress. The dress is in-built. So, you cannot change her clothes. Hopefully, you wouldn't need to do that either. It already feels like a soft plush.
All these features arranged in one doll make Coney worth every penny. Your baby is gonna love to hug and cuddle the doll.
Conclusion and Editor's Choice
Toddlers of today's generation are often found getting obsessed with TV, Video Games, Smartphones, and so on. It's not possible to totally cut off their screen time. But at least you can distract them with something better.
And these real-life baby dolls that cry and move and breathe can get your baby engaged for hours. We have reviewed five dolls with different features. But if you ask which one is our absolute favorite, we will call for the KOOKAMUNGA Expression Doll.
This doll can offer all the features you would love in a real-life baby doll. It can move and suckle onto her pacifier. The doll breathes like a real baby and makes realistic sounds.
Altogether this one is our most favorite among others. But, if your little love is under 36 months, you should go for other options in our list with lesser features.