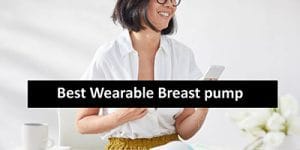 Is time saving and discreet pumping important for you?
Check out the best wearable breast pumps in the market today!
We know how time-consuming pumping can be. For exclusively pumping moms, there's hardly any time left for doing chores or watching TV!
These breast pumps will fit inside your nursing bra and operate hands-free. That means, you can pump while traveling, reading books, eating and even lying down.
Let's get to the point
4 Best Wearable Breast Pumps 2021 Reviews
1.Willow Double Electric Breast Pump
(Best for spill-free pumping)
After hours of analyzing consumer reviews, user experience and the product functionality, We've come to the conclusion that Willow is the best wearable breast pump ever! Its leak-proof design and the convenience to use on larger breasts makes it an indispensable mom gear.
The Willow has a learning curve to it. If you aren't used to how a hands-free breast pump works, you need time to get used to it. After that, it becomes super easy to use this and you will get the best simulation of how a baby stimulates.
The #1 selling point of this pump is its no spill design. If you are one of those who wants to lie down, work, or do yoga while pumping, this pump is made for you. It might not be the most discreet breast pump ever, but the convenience of moving around while pumping gives you extra time and freedom.
There are 7 suction levels and even the lowest setting will give you suction that is comparable to the hospital grade versions. It can be a bit painful but with proper nipple care, you should be good.
Let's be realistic here! Willow has a bit of noise when pumping and the 4 oz milk container isn't enough for some moms. If that's not an issue, go for it.
Pros:
Fits on larger breasts including G and H cups.

Strong suction level even on the lowest setting.

Pump in multiple position including lying down without any spills, period.

Keep track of milk volume through dedicated app.
Cons:
Needs proper nipple care to avoid sore nipples due to strong suction.

Milk container holds only 4 oz, so you need to empty and refill often.
2.

Elvie Pump Double Wearable Breast Pump
(Most quiet breast pump)
The Elvie pump is the best portable breast pump in this list. It's tiny, lightweight and fits inside your bra discreetly. Many moms opt for Elvie instead of Willow just because of its portability and quietness. Depending on your priority, you should make the final call.
This pump can automatically switch from stimulation to expression mode when there is let down. The suction is a lot more gentle than the Willow and you won't need to go crazy about nipple care.
When you wear it inside your bra, it will remain discreet and won't add up too much to your breast size. Many moms loved this and it was a decisive factor in buying the Elvie pump. Additionally, it's quieter than the Willow and that's essential when you need to pump in public places.
Although you can sit, stand or walk with this pump, you can't really lay down. Unlike the Willow it will leak when you lay down flat. But you can lay on your side with the pumps upright.
The only thing that's a bit annoying is the app! It can sometimes show inaccurate results and stop before the bottles are actually full. For best performance, keep your devices connected to the app always.
Pros:
Gentle suction that keeps your nipples in good shape.

Comes with four 5 ounce bottles instead of two like on most pumps.

Enjoy discreet pumping as the devices are small and compact.

Decent battery life that can last four 20 minute sessions.
Cons:
The app can sometimes show inaccurate amounts and stops before the bottles are full.

The pumps don't function properly if you don't connect them to the app.
3.

Freemie Liberty Mobile Hands Free Breast Pump
(Best Wireless Breast Pump)
The Freemie Liberty is a great alternative to a regular stationary pump. It has a compact design that lets you pump discreetly in public and gives you the freedom to work and pump at home.
The pump's programmable memory buttons are a lifesaver. You can save different combinations of speed and suction to enjoy a customized pumping session every time. There's also a sleep timer which you can set between 5-40 minutes.
Each freemie cup has 8 ounce capacity. That means you won't have to empty them often and you will be able to obtain maximum milk without disruption. However, additional free parts are a bit expensive and that's a thing you need to consider when buying this.
For working moms who travel frequently and still need to keep the pumping going, this device is just perfect! It might not replace your regular pumps, but it sure will give you more freedom.
Pros:
High capacity collection cups saves you time and effort.

Save your favorite speed and suction setting to use when needed.

Programmable sleep timer for auto shut off.

Lightweight and compact design is easy to carry.
Cons:
The cost of additional parts are high and can be an issue when you need more than one set of flanges.
4.

Little Lucky Wearable Breast Pumps
(Best for budget users)
For those of you looking for something affordable, the Little Lucky is the budget wearable breast pump! It might not be the most discreet pump, but it does the job. For occasional pumping in public places or at work, this is totally worth it.
Most first time users will assemble the parts without going through the instructions. As a result, their pump leaks. We recommend following the manual step by step and line up all the parts properly. There won't be spills anymore.
There are 5 adjustable suction levels with massage and letdown modes. However, the absence of an adjustable speed setting makes it unrealistic to use for exclusive pumping. So, we recommend using it side by side with your regular pump.
The pump kit has spill-proof storage containers and that's where the milk flows. To be honest, we loved the containers and they will make your pumping sessions cleaner.
Pros:
Adjustable suction levels are helpful for various breastfeeding requirements.

Storage container is designed to be spill-proof.

Wearable design gives you more time for yourself.

The price range makes it affordable for most users.
Cons:
It's not much discreet as it remains visible over clothes. You need to wear loose and baggy dresses to keep it as discreet as possible.
What to consider when buying a Wearable Breast Pump?
1. Double breast pumping
Single breast pumping is outdated! Seriously! In 2020, most moms love to pump both breasts together to save time and stress. So, we reviewed only the wearable pumps with two devices.
2. Compact & Discreet design
Most wearable pump models are compact. But some of them are even more compact giving you the most discreet experience. The Elvie pump could be perfect for you if you pump more in public places and it doesn't make your breasts look larger!
3. Spill-free and multiple position pumping
In the truest sense, pumps aren't completely spill-free. With some models you might be able to stand, sit or walk without spills. But you won't be able to lie down. That's okay for most moms! If you want the best of everything and pump in lots of positions, go for the Willow pump. It won't spill even if you lie down.
4. Battery run time
Battery run time might be an important factor while choosing a hands-free pump. If your pump can last 2-3 sessions without charging, it should be good to buy. 
5. Suction settings
Here's a decision you need to make. You could go for a model that will have high suction even on low setting or you could stick with something more gentle. The problem with high suction power is you will need to maintain proper care for your nipples.
6. App support
Some of the wearable pumps will have a dedicated app to track your milk volume and see your pumping history. It isn't mandatory, but always nice to have as you will know how much you are making to reach your target.
Conclusion & Editor's Choice
When comparing Willow vs Elvie vs Freemie, we think Willow is the winner for a lot of reasons. The biggest of them is you can pump in multiple positions including lying down without any spills. If you are exclusively pumping, Willow can pretty much replace your regular bulky pumps.
The Elvie and Freemie are equally strong contenders with different benefits! The choice is yours and as each mom has different needs, the same pumps won't work for all.