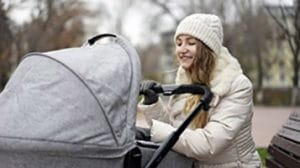 So when is the big day, huh? Tomorrow? I can see how you are freaking out over the very idea of taking your newborn out for the first time. But this had to be done someday, right? The blogs you have read before you came here told you that it's going to be okay. I disagree.
It's not going to be okay.
Babies are erratic and mysterious creatures. With a newborn by your side in a place far away from your home, you will be on the fence every single second. From projectile vomiting, poop tornado to skin allergies, you need to be mentally and literally prepared for every nightmarish situation that might come your way.
Here are a few rules and hacks I follow when I take my bub out for a spin. I always prefer overpreparing which has paid off really well so far.
Know Your Itinerary
How long will you be out with your junior? Is it a 5-hour car trip, a casual stroll in the park or a long haul flight? How is the weather up there? The baby essentials you need to pack will depend on all these factors more than anything.
You don't want to lug around a heavy bag full of nappies and stuff all day but you also need to have enough supplies with you for emergency situations.
If you have a car with you, you can stash all the extra clothes, nappies, water bottles, medicines in it and carry only the bare minimum while walking. At least, that's what I do.
The Planning
Now here's a comprehensive list of the essentials I carried on my first day out with my baby boy:
Nappies, Lots of Them: Diaper backpack bags are great for traveling. I would suggest bringing one diaper for every hour you are out. Store the spares in my car in a small bag.
Also, throw in a pack of baby wipes, hand sanitizer, tiny water bottles, changing mat, burp clothes, rash creams, and meds for colic, fever, and allergies in the diaper bag you'll be carrying. Pack light as you don't want to carry a heavy diaper bag for hours while also taking care of a baby.
Travel System: Baby strollers and prams are very popular and for good reasons. They provide comfort, shelter, doubles up as a place to eat, take a nap and even serves as a safe space for changing nappies. You can hook up the diaper backpack to a stroller when you are exhausted after all the walking.
Mind the Weather: If you are traveling to a cold climate, have an organizer bag with you to neatly store blankets, socks and warm clothes for your newborn. If you are going to stay in a hotel, don't forget to bring a few toys too. It helps kids fall asleep easily in an unfamiliar environment.
Slings or Nursing Covers: Breastfeeding in public without getting too much attention is the common goal of all mommies. Babies can get hungry literally anytime, anywhere. That's why always make sure to carry a nursing cover or a sling baby carrier to get some privacy while nursing.
Take Care of Yourself Too: Amongst all the chaos, don't forget that you are a human being too. Make sure to have some snacks, enough water, sunscreen, some cash with you before going out. Pack in two extra clothes for you too because kids don't discriminate while releasing their load, you know?
In Conclusion
No need to stress out so much. I know it's a lot to take in but wisdom comes from experience. Lastly, one more pro tip for you before the big day: always plan ahead. Get yourself ready at least 30 minutes before the departure time because traveling with a baby needs a tremendous amount of organization.
Also, it will be worth it to take a few minutes out and research about the weather, nursing, and diaper changing facilities of the place you're headed to. That's all from my side for this segment. Hope it helps. Enjoy your trip, don't sweat it.