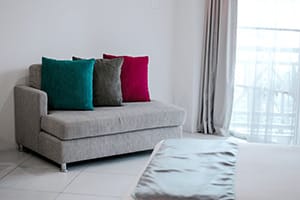 So, you have finally found yourself a couch that's heavy-duty enough for you. Good for you. But buying a heavy-duty couch is not enough. You will have to take care of it from time to time to make sure it stays in good condition for years. 
Issues like sinking and sagging cushions are very common when an overweight person sits or naps on the couch for several hours every day. Even the highest quality foam stuffing can lose its firmness and elasticity after a point. 
On the bright side, there are a couple of simple and effective ways to properly maintain a couch for a heavy person. In this guide, I am going to list them down as well as elaborate them to help you keep your beloved couch in good shape. 
Golden Rules of Maintaining a Heavy-duty Couch 
Flip and Rotate the Cushions 
Overweight or not, everyone naturally tends to sit on one particular side of the couch every day. This causes the seat cushions and back pillows on one side to compress and sag more than the other side. 
To prevent the foam stuffing from wearing out unevenly, rotate the seat cushions, rotate the pillows, and fluff them up every few days. 
Get Sagging Couch Cushion Supports
If the previous method isn't making much of a difference, don't worry just yet. If your body weight is putting excessive pressure on the sofa cushion support, consider buying a plywood sofa cushion support board. 
These sturdy boards don't cost an arm and a leg and get the job done. The plywood support will amplify the cushions' ability to handle additional weight and thus, keep its rebound ability intact. 
If you are okay with spending a little more for extra comfort, I would suggest you invest in a foldable couch support board made of a breathable material. 
Revamp the Cushion Filling
Is fiber filling or foam insert of the couch cushions compressed beyond rescue? Instead of investing in new cushion fillers every year, revamp them every year. 
It's pretty simple actually if you are into DIY. First things first, you need to find out what kind of cushion support is inside your couch. Most premium heavy-duty couches come with high-density memory foam support. 
The standard ones usually go with a combination of foam and squishy filler. To keep your sagging cushions cushy, fill your cushions with additional fillers. They are pretty cheap and easily available online. 
Alternatively, you can also cut wedges of foam and fill the sagging parts with them to enhance the support. Since we are specifically talking about couches for heavy people, you should repeat this process at least twice a year for best results. 
Remove the Fillers While Cleaning the Cushions
There's no way you can avoid coffee and sauce spills forever. To get the stains out without breaking a sweat, use a fabric cleaner and clean it out as soon as possible. If a fabric cleaner spray won't get the job done, you will have to manually wash them with cold water. And when you do that, make sure to remove the fillers. Washing couch cushions with fillers inside will significantly affect their rebound ability and firmness. 
Remove the Pilling
Over time, couch cushions develop fluff balls or pilling. It's icky and not the most pleasant sight to behold. To keep your sofa upholstery looking as good as new, use a razor to remove the pilling. If that doesn't work, buy a de-pilling comb. It might seem unnecessary but it will pay for itself in the long run.
In Conclusion
So that was it. As you can see, taking care of a couch, be it a regular-sized or an extra heavy-duty one, is no rocket science. The key is to do it periodically to minimize the damage. 
No matter how careful you are, couches are bound to show signs of wear and tear at some point. But with a little maintenance and careful usage, you can make your couch last for years without needing any major repair.