It's been a lovely experience for me to write this series of posts on Show and Tell Letter. Writing these posts takes me back to my childhood and sometimes I wish my parents made learning alphabets so easy and fun like modern parents like you.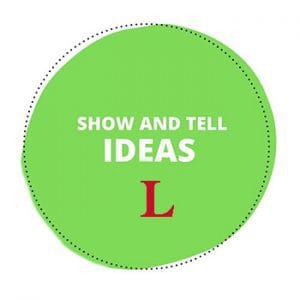 However, it makes me feel special to be a part of your play by preparing the ideas for you. Today's post of this series is on the ninth alphabet, L. 
There are hundreds of words and ideas with this letter. We have chosen only the 70 easiest ones for your child to recall.
So, let's see how many of these your child can guess while playing Show and Tell Letter L. 
70 Ideas to Show and Tell Letter L
Lion

Lion King (Disney Movie)

Leo (Zodiac Sign)

Ladybug

Lamb

Lamp

Lizard

Lemur

Lobster

Lipstick

Lollipop

Lemon

Lemonade

Lime

Licorice

Leeks

Lucy and Linus (from Peanuts)

London

LOL (Laughing Out Loud)

Light

Light years (one of the time measuring units)

Lunch

Lace

Lady

Lips

Letter

Lid

Ladder

Leap Year

Level

Lock

Love

Life

Label

Lantern

Labor

Lorry

Lack

List

Lebanon 

Lux

Lumens

Luxury

Legit

Line 

Late

Limit

Log

Legal

Local

Large

Links

Low

Laser

Logic

Loyalty

Lenses

Lose

Loose

Lilen

Litter

Learning

Leaving

Least

Lay

Layer

Lucky

Liver

Leaf

Lilly
Final Words
Hopefully, it will be fun and helpful for you and your kids. If yes, don't forget to write your experience to us. 
I always love to hear from you. Besides, knowing that my post is helping others encourages me to do what I do. There's more in the series, so don't just stop. Get ready with your kids for another play with our Show and Tell Letter E, K, Q.