It's been a pleasure fetching out words for the posts under my Show and Tell Letter series until now. I have covered most letters including I, E, A, K, L, U, and others. But, none of them were this difficult.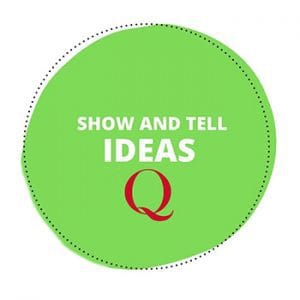 Today my topic is a unique letter, Q. It just gets harder after writing Q for Queen, and Quilt. Surprisingly enough, I have found out 50 words and ideas that start with Q. Isn't that Amazing.
It took a while to go through the dictionary, searching for Q-words for places, flowers, fictional characters, and so on. After quite a lot of research, I am glad to present you with this long list of ideas to Show and Tell Letter Q.
50 Show and Tell Ideas that Start With Letter Q – 2023
Queen

Quilt (hand quilting)

Quail

Quarantine

Quartz

Quarter

Question

Question Mark

Queen Miranda (from

Sofia the First

)

Quill (Type of an ink pen,was famous in 1900s)

Quaker Oats (a popular brand of oats)

Quote 

Quota 

Quince (fruit)

Q-tip

Quinoa

Queen Elsa (from

Frozen

)

Queen Elizabeth 

Quirky 

Quack (Duck sound)

Quick

Quadrant (one fourth of a pie chart)

Qabalah (Direction)

Quackery (a famous book name)

Queen Bee 

Qinling Panda (one species of Panda)

Quagga (one particular species of Zebra)

Quiche (one type of tart)

Quesadilla (a Mexican food)

Queenie (from

101 Dalmatians

)

Q*Bert (from

Wreck-it-Ralph

)

Quarterback football player

Quart Jar (jar with a capacity of 32oz)

Qualification

Quality

Questionnaire (for survey)

Quiver

Quantity

Queue 

Quantum (an unit terminology used in physics)

Quarrel

Quiz

Quicksand

Quotient 

Quenelle

Quit

Quitter

Quiet

Quasi (seemingly)

Qatar 
Final Words
I'm pretty sure that I have already amazed you with the fact that there are actually so many easy and usable words that start with Q. I myself didn't realize that fact until I completed this list. 
So, are you having fun playing the game? If you are running short of words in other letters, we highly recommend you to go through our other posts under the series. Hopefully, you will find them helpful too.
Other List Of Show And Tell Letter