Do you have an adventurous 12-year-old who loves spending time outdoors? If so, you may be considering an All Terrain Vehicle (ATV) to keep them active and engaged. Not only do ATVs offer a fun and thrilling off-road experience, but they can also provide a great workout for young riders.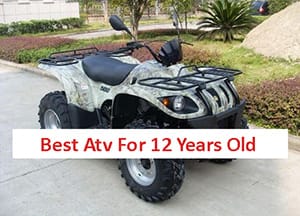 However, selecting the right ATV for a 12-year-old can be a challenging task. It's important to make sure the vehicle is safe and made for their age. You should check the engine size, suspension, brakes, and speed limits to make sure it has the right safety features.
To help you make an informed decision, we've researched and compiled a list of the best ATVs for 12-year-olds. Our list includes vehicles that are safe, reliable, and offer a fun and exciting off-road experience.
So, let's explore the top ATVs for 12-year-olds and find the perfect fit for your young adventurer!
Images

Product Name

Features

X-PRO 125cc ATV

Weight Capacity: 132 Ibs
Max Speed: 35-40 mph

Razor Dirt Quad 500

Weight Capacity: 220 lbs
Max Speed: 9 mph

X-PRO 200 ATV

Weight Capacity: 200 lbs
Max Speed: 45-50 mph

X-PRO 250cc ATV

Weight Capacity: 198 lbs
Max speed: 45 mph

X-PRO 110cc ATV Quads 

Weight Capacity: 143 Ibs
Max Speed: 25 mph

Tao 110d Fully Automatic Atv

Icebar 110cc ATV

Weight Capacity: 130 Ibs
Max Speed: 30
7 Best ATVs & 4 Wheelers for 12-year-olds and Teens
1.

X-PRO 125cc ATV 4 Wheeler
Main Features: 
Max weight capacity: 132lbs. 

Engine: 125cc, 4-Stroke with reverse. 

Safety features: Engine kill switch and built-in speed limiter. 
The X-Pro is a dream ATV for beginners looking to hone their ATV riding skills. It houses a mighty 125cc semi-auto gas engine with reverse gear and automatic transmission. 
Although the ATV is advertised as an entry-level model, 125cc is enough for an intermediate rider who wants to take things up a notch. It also comes with a remote that allows you to turn off the engine with just a push of a button when your teen starts going too fast. 
There's an engine kill switch on the right handlebar that will cut off the engine power during an emergency situation. The X-PRO clocks in at 40 MPH, if the road conditions are great. The max speed depends on both the weight of the rider and the road conditions.
It can seamlessly handle up to 132lbs. A 12-year-old, not taller than 5'2" can easily fit into the ATV. For further safety, the ATV has a built-in governor or speed limiter as well. 
It lets you decrease the engine speed to make the ride safe for a beginner and prevent the rider from exceeding the recommended speed limit. You can gradually increase the speed limit as your teen improves his riding skills. 
Also, by being able to turn the rear wheels at a lower speed, the rider can substantially reduce the turning radius. This makes maneuvering the ATV much easier on narrow roads, especially while parking the vehicle. 
Assembling the X-Pro does demand some technical know-how, though. Unfortunately, it doesn't come with any assembly instructions. 
If you have your way with mechanics, with the help of YouTube, you can put the pieces together in about 4 hours or so. To sum up, it's a pretty decent ATV for a 12 year old and adults looking for a casual ride. 
2. Razor Dirt Quad 500 4-Wheeler ATV
Main Features: 
Weight Capacity: 220 lbs.

Max Speed: 9 mph.

Rear Suspension: Yes.

Front Suspension: No.

Throttle Limiter: No.
With its fun but safe max speed limit of 9 mph and heavy-duty construction, Razor Dirt Quad 500 is just the perfect 4-wheeler for 12-year-olds who already know how to ride an ATV. Although it does travel up and down on gravel roads just fine, albeit a little slower than I would have liked (7 mph).
Mind you that the wheels are not suited for snow at all. It's equipped with a high-quality electric motor, which is perfect for my kid who is not ready to drive an engine-powered 4-wheeler yet. The motor barely makes any noise, so no complaints from the neighbors either.
The stock lead-acid batteries squeeze out a decent amount of runtime. You can even upgrade to lithium batteries for longer battery life if needed. The quad can comfortably handle two tweens but is a little slow with an adult on it.
It will be a little too snug for anyone over 5 feet. In my experience, it can handle up to 200 pounds easily without slowing down, even in rocky road conditions.
It arrived at my doorstep fully assembled. All I had to do was adjust the handlebars and wait till the battery was fully charged.
One thing I was a little unsure about before buying this quad was the absence of reverse gear, which means it has to be pushed manually. Not a big deal for a 12-year-old but younger kids might struggle a bit with it.
Also, it doesn't have a speed limiter, so if you are buying the quad for training purpose, I'd suggest purchasing a speed limiter with it for your peace of mind.
3. X-PRO 200 ATV Quad 4 Wheelers
Main Features:
Engine Type: 169 cc 4-stroke air-cooled engine.
Weight Capacity: 200 lbs.
Max Speed: 45-50 mph.
Speed Limiter: Yes.
Next up on this roundup of the best 4-wheelers for 12-year-olds can easily accommodate one adult and a tween without losing speed. The build quality is pretty impressive for an entry-level model and it can handle tough terrains better than most ATVs in its price bracket, in my personal experience.
Whether it's just for driving on the streets around the neighborhood or climbing up and down small hills – thanks to the large and sturdy 23″/22″ wheels, the quad can handle it all.
The extra-wide rear wheels are a brilliant touch, for it provides extra stability and ground clearance which comes in handy in difficult road conditions. It can go as fast as 45-50 mph, even when you're driving on hilly terrain.
Although it's rated for max 200 lbs, according to many users, it can handle up to 300 lbs just fine. However, you may not be able to go faster than 35 mph with over 300 lbs of load on the vehicle.
Coming to the downsides, I really wish the seats were softer. Some more cushioning would be great. Secondly, the assembly is definitely a two-people job and demands moderate mechanical knowledge and skill. Expect the whole process to take you anywhere between 4-5 hours. Also, you may encounter minor defects like chain coming loose or wheels going out of alignment.
Thankfully, you can easily find repair tutorials for this model on the internet. So, as long as you can get past these small inconveniences, you and your tween are going to have a great time riding this ATV up the hills.
4. X-PRO 250cc ATV Quad Four Wheelers
Main Features: 
Max speed: 45 MPH. 

Max weight capacity: 198 lbs. 

Front Suspension: Double a-arm w/ 15.7″ shock.

Rear Suspension: Single arm w/ 13.4″ shock.
More geared towards experienced older teens and adults, this 200cc ATV offers manual transmission. Compared to automatic transmission, manual offers better fuel efficiency, which translates to more mileage. 
The engine is equipped with reverse gear that lets you pivot the quad backwards without having to get out of the vehicle which makes parking a cinch. 
Two average build adults easily ride the vehicle together as the vehicle is rated for 198lbs. The quad is roomy enough to comfortably accommodate 5'6" individuals. 
If you are looking for an ATV well-suited for mudding, this model won't let you down. As it's a sealed unit, dirt and mud won't loosen up the bolts. 
What I really love about this ATV is that it can reach up to 22.87 mph in just 3 seconds or so. The max speed is 45 mph, which is pretty fast for a youth ATV at this price point. For safety, the engine has a governor located next to the throttle. 
It allows you to reduce the speed to as low as 5 mph, making the ATV a very safe option for kids and teens who are riding an ATV for the first time. The inclusion of an automatic kill switch and limited turn radius further makes off-roading safe for inexperienced riders. 
The assembly work is pretty demanding, though. Nothing is assembled, so unless you have the necessary technical expertise, you should let a mechanic do the job. 
All in all, I'd say it's a well-made, incredibly sturdy ATV for teens above 16 and adults who want to explore recreational off-roading and trail riding. 
5.

X-PRO 110cc ATV Quads 
Main Features: 
Engine type: 110cc 4-Stroke engine. 

Remote kill switch and speed limiter: Yes. 

Transmission type: Automatic Transmission. 
This quad runs on regular gas and can haul 12 year olds as well as adults without breaking a sweat. Although it's rated for 132lbs, a lot of users weighing as much as 250lb have effortlessly cruised it around. 
For training purpose, it features a throttle limiting screw/ governor to keep young riders from whooshing past the safe speed limit. 
Parents who are dead worried about the safety of their children will have a peace of mind knowing they can remotely stop the quad in the event of an emergency. 
Another safety measure that's worth highlighting is that the engine won't start unless the front parking brake is set. This ensures that the ATV doesn't start rolling away accidentally. 
Automatic transmission allows for clutch-pedal-less operation, which makes maneuvering the ATV an easy undertaking for novice riders. 
Not having to shift the gears manually will ease your 12 year old into more aggressive off-roading. X-Pro has also optimized automatic transmission to strike the perfect balance between fuel economy and performance. 
Favorable road conditions will get you about 25-30 mph which is pretty impressive for a 110cc ATV. Simple roads, short and easy trails are ideal for blazing around with this quad. 
However, if you are planning to ride uphill, go mudding, or explore rough terrain with it, 110cc won't be up to the task. Another drawback worth noting here is that this model doesn't have a reverse. 
6. Tao

110d Fully Automatic Atv
Main Features: 
Engine type:107CC.

Max weight capacity:132lbs. 

Start Type: Electric transmission.
Comparatively easier to put together than the other youth ATVs listed in this guide, the Tao 110d is a great choice for training young kids to ride a quad. For a 107cc engine, it certainly has a lot of grunt. 
It can reach top speed (which is about 30-35 mph) just a couple of seconds after you start it. The description says that the max weight it can hold is 132 lbs. But in reality, it can haul a tween and a heavy adult without a problem. 
I'd say it can easily handle 250-260lbs for occasional riding. Don't exceed the specified weight regularly or it could impact the acceleration. Fully automatic transmission makes shifting gears a breeze for young, novice riders, not to mention the better fuel efficiency it delivers.  
This 107cc version doesn't have a reverse but the 125cc model does, something to keep in mind while you're pondering over your options. The suspension system this four-wheeler uses is undeniably sturdy and will hold up over time. 
Standard youth ATV features like throttle control and remote engine kill switch are also present in this model. However, one big negative is that the remote engine kill switch often fails, according to a couple of users. 
Moreover, you'll have to remove the nut off the bolt every time you set the speed limit. For a competitively priced youth ATV, there are bound to be a few trade-offs you will have to live with. 
Despite its shortcomings, it is one of the best ATVs for a 12-year-old when you're on a shoestring budget.
7. Icebar

110cc ATV
Main Features: 
Engine type: 110cc 4-stroke.

Remote kill switch: Yes. 

Reverse: No. 

Weight limit: 140lbs. 
The final model to grace this list of the best ATVs for your 12 year olds scores very high in the aesthetics department. With that being said, looks are the least of my concern when picking a 4-wheeler for a tween. 
The first and foremost thing that matters is safety and the Icebar ATV fares well in that arena too. It is powered by a 110cc 4-stroke engine which is more than enough for an entry-level quad. 
It's a gas-powered quad with electric start and consumes regular gas along with 10w40 motorcycle oil. When the road conditions are great, it clocks at 35 mph and 25-30 mph on regular dirt roads. 
With the onboard speed governor, you can dial down the speed to 5 mph to ensure complete safety for your child. The manufacturer-specified weight limit is 140lbs but in reality, it can safely drive around 210lbs without a hiccup. Due to the compact stature of the ATV, even 5-6-year-olds can operate them with a little practice. The unit comes 80% assembled. So, those who have assembled ATVs before will be able to set up this model on the fly.
It does offer a remote-controlled kill switch, allowing parents to cut off the engine power whenever they sense a danger. It has a range of 15 ft, something to remember before letting your child blaze it around. The build quality of the ATV doesn't leave any room for complaint. 
How to Choose the Perfect Atv for 12-year-old Kids- A Quick Guide
ATVs for your 12-year-old sounds a bit extreme, doesn't it? All-Terrain Vehicles are actually much safer than what they are touted out to be. I am not talking about full-size adult ATVs here. 
Those are an absolutely no-no for anyone below 16 years. However, the youth quads or ATVs are specially designed with a tween's safety and comfort in mind. 
You just have to pick the one that will match the physical and emotional capacity of your kid and you're gold!
If you don't know where to start, here are a few key pointers to keep in mind while shopping for an ATV for your 12-year-old: 
Engine Size
Most state laws in the US recommend that children below 10 years of age should drive ATVs with engines larger than 70CC. The recommended ATV engine size for 12-15 year old kids is 70-90cc. However, most decent youth ATV brands come with a 110cc engine. 
The CSPC engine size guidelines aren't set in stone. If your tween can skillfully handle a dirt bike or trail bike, a 70cc engine will be flat-out boring for them. My point is, choose the engine size according to the expertise of your kid. 
Safety Features
ATVs, be it for kids or experienced adults, should be safe above all else. Apart from low-speed engines, youth ATVs come with a couple of special features for extra safety. 
This includes a speed governor/throttle control which lets you set the max speed of the vehicle as low as 5 mph. Some of the great ATVs for 12 year olds offer a remote-controlled engine kill switch, allowing the parent total control over the vehicle. 
Please note that the state law prohibits children below 16 years to drive around an ATV without direct adult supervision. 
Finding the Right Size for Your Kid
Finding a vehicle your tween can comfortably operate is absolutely essential for their safety. Here's how to make sure the quad you're buying is the right size for the young rider- 
There should be no more than 3-3.55" of clearance between the seat and the child's pants when they stand up. 

Next, they should be able to shift weight, grip the handlebar without leaning forward and move it left to right effortlessly. 

The child should be able to easily maneuver the throttle and brake lever with one hand. 

Finally, check for the leg reach. Ideally, when the kid sits in the ATV, their legs should be able to bend at least 45 degrees. 
3-wheeler vs 4-wheeler
3-wheeler ATVs are not at all safe for young riders or even adults, mainly due to the lack of stability. 4-wheelers or quads provide great stability and minimize side overturns. Although they cost a bit more, choose a 4-wheeler over a 3-wheeler ATV any day. 
In Conclusion
Here comes the end of our discussion about the best ATVs for 12 year olds and teens. I understand how daunting it must be to let your kid drive a four-wheeler independently for the first time. 
Kids can get overzealous and throw caution to the wind and that's when accidents happen. Although modern ATVs pay a great deal of attention to safety, do not, under any circumstances, let your kid ride a quad without adult supervision. 
Also, it's best to take the ATV out for a test drive yourself before letting or tween or teen ride it, just to make sure everything is working the way it should. 
Read Also: