As a parent of an older toddler, it often gets hard to find a perfect gift for your kid. If you too are at that state and roughly thinking about playset as an option, then you reached the right place.
In this post, we are going to share our research and shortlist for the best playset for 12-year-olds. It doesn't mean that only 12 years olds can play with these five best playsets. Rather, younger kids can also play and grow with these sturdy and safe playsets.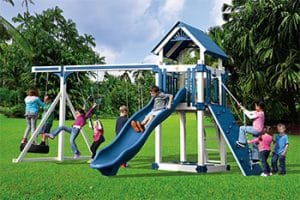 We have analyzed the features, materials, and sturdiness of each playset and shared an in-depth review of these five best playsets. Let's check them out. 
5 Amazing Playset For Your 12-Year-Old Kids
1.

Lifetime 290038 Heavy Duty Swing Set
Weight Limit: 405 lb
Item Weight: 96 lb
Frame Material: Alloy Steel
If you ask what makes Lifetime 290038 the best playset for a 12-year-old kid, I will say- "everything" in reply. This playset has every feature that people look for while purchasing a playset for their backyard.
The playset includes two belt swings on each side with one trapeze bar in the middle. So, three kids can play at the same time. No more taking turns to play with the playset means no more quarrels.
The item itself has a very heavy build which keeps it stable on the ground. Although the legs have plastic feet, it stays flush on the ground. You don't even need any stabilizer anchors or concrete. However, I would never discourage if someone chooses to have extra security for their children.
This rust resistant playset promises not to fade, splinter or warp. That means, if you get this set when your kids are small, they can grow playing with the set for a long time. Why only kids, this set can support up to 405 lbs at a time. So, sometimes parents can enjoy a ride with their kids too.
One small thing that I personally found a little compromising. I think if this set would be compatible with other swings it might be better.
One of my kids does not enjoy belt swings that much. Although I sometimes replace and install other swings with this set, the manufacturer of this playset does not recommend doing so. It is because they haven't tested it with other manufacturer's swings.
2. Swing-N-Slide Grandview Twist Play Set
Weight Limit:  800 lb or more (approx.)
Item Weight: 567 lb
Frame Material: Wood and High-Density Polyethylene
The Swing-N-Slide is a real fun playset for kids up to 12 years old. If you have a big space in your backyard, this is a must-have for your kids.
This wooden playset will turn your backyard into a mini amusement park for your kids and their friends. The overall look of this playset is like a little treehouse for kids. They can climb up the wooden stairs and slide down from there.
The playset includes two different slides. One is a turbo tube slide and the other one is a sidewinder slide. It has swings, gliders, monkey bars, and a climbing wall. The swing beam holds two belt swings and a multi-child glider swing.
Only this swing beam can support up to 315 lbs and each of the slides can support up to 250 lbs. So, my analysis says, you can easily keep 10 to 12 kids busy with this one playset. This multi-functional playset has everything to keep your kids active and entertained throughout the day.
Now, talk about safety. With the ASTM certification and an efficient design, the Swing-N-Slide Grandview Twist Playset ensures maximum safety for your kids. It's quite sturdy and durable. We highly recommend this product for those who own a big backyard space and have a bunch of kids at home.
3. MY STORY Play Stations Swing Set
Weight Limit: 550 lbs
Item Weight: 60 lbs
Frame Material: Metal
This MY STORY playset consists of three different playstations. It's the perfect fit for those parents who have kids with different choices in games, just like me. Like my youngest, some kids do not like belt swings and prefer saucer swings.
This 3 Playstations Swing Set comes to the rescue for parents like me. This set features a belt swing, a 40" saucer Swing and one Basketball Hoop. However, the basketball hoop is at a height that's appropriate for young kids aged 12-15. It's not for adults and professional players. So, don't go crazy with it.
This playset allows at least 4 or 5 kids to play together. And the side basketball hoop can keep your young kids active for hours. You can also rock on the swing along with the kids every now and then. This is gonna give you a great family time together.
The sturdy metal frame ensures extra stability. Moreover, the saucer swing comes with an additional flexible swing seat. This EVA seat makes it much more comfortable for the use of kids, adults and elderly members of the family as well. You can replace either of the swings with swings of your preferences.
Overall if you have more than one kid and they belong to different age groups, this playset is your best option. It will bring them together for some outdoor activities and help them bond better.
4. SUPER DEAL Swing Frame Set
Weight Limit: 440 lbs
Item Weight: 28 lbs
Frame Material: Alloy Steel
The Super Deal Swing Frame Set is the best playset for 12 year old kids and those who are looking for something that will fit in a smaller space. If you only have 6 feet wide space in your porch, garden or backyard, you can consider this swing.
Although we are talking about a suitable swing set for a small space, it doesn't mean that the swing is congested. This swing frame can hold only one swing leaving plenty of space to hang out in the swing. 
This swing frame is not recommended for parents who are searching for a playset for multiple kids to play at the same time. It's a one person swing frame, but if you choose a big saucer swing or other larger swings to install, then two or three little kids may share it together. It has a great load capacity of 440 lbs. Besides the 4 stakes ensures the stability of the swing. 
The most interesting part about this swing frame is its compatibility with any type of swings like yoga hammock, saucer swing, patio swing, web swing, net swing and so on. It's very easy to install the swing using the carabiner.
Overall, this makes a great addition to your home as this swing frame allows the kids to sit on, lay down and study on a big saucer swing and you can practice your yoga on a yoga hammock. This multi-functional swing frame is definitely worth a shot. 
5. Trekassy Tree Swing
Weight Limit: 700 lbs
Item Weight: 15.54 lbs
Frame Material: Polyethylene, Oxford fabric, Stainless Steel
Just as the name suggests, this model by Trekasy indeed is one giant swing for kids of all ages and adults too. This huge five feet platform swing can hold up to 700 lbs at a time. 
With this swing, you don't have to worry even if you have a whole army of kids who love to play together. Sometimes, you can enjoy lying on it all by yourself or maybe with your partner when the kids get busy with some other stuff.
This huge platform swing has no swing beam to hold it. It's rather designed to hang with trees. The package includes two 5 feet long swing straps which have a very high load-bearing capacity. That makes the swing installation super safe. All you need to do is to find good and strong horizontal branches of a tree to tie the strap on. 
Another plus of this product is the adjustable hanging rope. You can adjust the height anywhere between 47 and 71 inches for your convenience. The hanging rope itself is thick and made from high-quality PE webbing which makes the fastening more secure. The swing is a heavy-duty playset for older kids and you should definitely give it a try.
Things To Consider When Buying Playsets For  Your 12-Year-Olds
A playset is a great investment for any backyard. It can provide hours of fun for children and their friends. When choosing the perfect outdoor toy for a 12-year-old, there are a few things to consider as follows. 
Types of Playset and Features
Before buying any kind of toys or gadgets for your kids, always consider what they may or may not like. See what features they offer. For instance, the MY STORY 3 Playstation playset offers three different types of play, so if you have kids with different preferences, you can satisfy them all with one single playset. Besides that, you need to consider the size and fit of the playset as well.
Almost every best swing set for a 12-year-old will ensure safety standards for the kids. But, you need to check what is the load-bearing capacity of the particular model you are choosing. 
Materials and Construction
Materials and construction are another concern to look for. A playset is not something that you buy every day. If your playset is not sturdy and durable enough, your investment may go in vain. Playsets usually are made of strong alloy steel, wood, or other metal. However, the quality of these materials is important to notice. 
Conclusion and Editors Choice
Our absolute favorite is the Lifetime 290038 playset because of its sturdy build, stability, and the fact that it has a taller frame to let your kids grow in it. This playset is my personal favorite, but all the other four are equally good with their unique features.
So, choose the most suitable playset that would fit well in your backyard and get it for the kids. Hopefully, they are going to have a great summer with the playset.