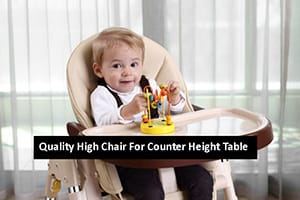 Most small to medium-sized homes have counter height tables! But the problem arises when you want a high chair for your baby to sit and eat with you.
Finally, we have been able to bring you the best high chairs for counter height tables! Some of these chairs can reach as high as 36-in which is the same height of counter tables. So, you can use them for bar height tables as well.
The only thing to consider is the price. If features like reclining back, adjustable footrest or swiveling base matters more to you, go for the higher-end models. Otherwise, you can find a decent model that gets the job done at an affordable price range.
Check them out!
5 Best High Chair For Counter Height Table 2021
1.

BEABA Adjustable High Chair
There's not a lot of high chairs in the market that can match your kitchen counter or the bar table. Even if you find one, it might be too expensive! Going against the norm, the Beaba is affordable and is the best high chair for bar height and counter height tables.
The chair is adjustable to 6 height levels from 28-in to 36-in. The tray height can reach 36.5-in. This means you will be able to use almost any sort of table. It will sit in level with counter height tables and just a bit low for bar height tables. But that's good enough to let your child eat with you.
It's a modern-looking chair built with sturdy materials including aluminum, wood and plastic. The large base might not be the best for small homes, yet, it's the same thing that makes the chair highly stable.
The PU foam cushion on the seat makes your child sit comfortably. It has a PU coating on the cushion and that's the reason it's easy to clean. The only thing the chair lacks is a foldable frame. So, if you are going to use it strictly at home, this one's for you!
Pros:
Adjustable height works for most tables.

Wide base structure makes it secure and stable.

Stain-resistant coating on seat is easy to clean.

Affordable price compared to other models.
Cons:
Lacks portability as it doesn't have wheels and can't be folded away.
2.

Joovy Foodoo High Chair
The Joovy Foodoo compared to the Beaba has some extra features that makes it portable and a lot more versatile. It might not reach all the way up to a counter height table, but it definitely works. 
This high chair has 8 adjustable height settings and the tray height ranges from 25.5-in to 33-in. Sure, it won't work for every table, but we think it's the best high chair for a counter height table among other similar models. Just remove the tray if you love to have your child eating from the table.
The seat has a high back chair and will keep your child from looking back. We also loved the 5 reclining positions as it allows the kid not only to eat on it, but also to sit and relax for a while.
The ability to put on the tray with one hand can be a game changer. You won't know until you actually use it and see for yourself. Among the things that makes it portable is the foldable frame and safe rubber wheels.
Pros:
Designed to put on tray with one hand.

Foldable base and rubber wheels makes it more portable.

Store away the shoulder straps on the locking tabs.

High back design eliminates the possibility of the child looking back and tipping over.
Cons:
When you recline the back, it rubs against the tray. It's annoying!
3.

Peg Perego Siesta Highchair
The Peg Perego Siesta is a high quality high chair for counter height table. It's a bit on the higher end, but the quality will ensure that you can pass this on to generations and make your money worth it. 
The tray on this high chair can reach over 33-in. It's in the middle of a counter and a table height. But that's good enough for most people looking to dine with their child close to them. Additionally, the reclining back and adjustable footrest makes this chair even more appealing.
One of the coolest features of Peg Perego is its ability to fold into a compact shape. On top of that it has a small footprint making it easy to store in tight spaces. When you compare it to Joovy Froodoo, this model is the winner in terms of how small it can fold up.
The tray on the chair can be put on with one hand effortlessly. And when you don't need it, just slide it to the back of the chair. While the chair has wheels to move around, it can be a bit annoying. As the front wheels don't swivel, it's hard to steer.
Pros:
Five point harness and restraint bar keeps the child safe.

Suitable for small homes as it folds into a compact shape.

Access tray with one hand and keep it on the back of the chair when not in use.

Adjustable recliner and footrest for more comfort.
Cons:
The wheels are hard to steer as only the back wheels swivel.
4.

KABOOST Booster Seat
The Kaboost seat booster is the most versatile accessory you can buy to turn any chair at home into a high chair. It can add 3.75-in to 4.5-in of extra height and save you from buying expensive high chairs.
This chair height extender is extremely stable and has a rubberized foot that limits slipping off. It can hold weight up to 300 lbs and needless to say that it will even hold older children, adults and ederly people.
The best part is it weighs only 3.5 lbs and folds into a travel-friendly shape. So, you can take it with you virtually anywhere! If you are going somewhere and need a high chair for your kid to eat with you, this is your best option.
The feet of the kaboost extend diagonally to fit chairs of varying width and length. We highly recommend this for convenience. However, uninstalling can be a bit tedious and might require help from a second person.
Pros:
Converts any normal chair into a high chair for counter height table.
Non slip bottom makes it stable and safe.
Foldable design is great for storage and travel.
Suitable to use by children and adults both.
Cons:
Uninstalling isn't that easy and will require a second hand.
5.

Bloom Fresco Contemporary High Chair
Design wise, Bloom Fresco beats other high chairs we reviewed. It's got a stunning design that can blend into any decor. The ability to reach 36-in height makes it one of the best high chairs for counter height tables! And if you remove the tray it can be used with bar height tables as well.
Bloom Fresco has a number of interesting features that can make it worth purchasing. It has a swiveling base that can move 360-degrees and scratch-free wheels for moveability.
The feeding tray is quite large and has a scratch resistant surface. Works great for children who love to play with food. The safety bar has a click-in and out design that makes it effortless to use. We also loved the addition of reclining positions and the adjustable footrest.
Keep mind, this is only the high chair frame. To make it complete, you will need to buy the starter kit that consists of the seat, straps, buckle and the 5-point harness. If you think it's worth paying those extra cash (which we think it is), then go for it.
Pros:
3 reclining positions makes it perfect for newborns and toddlers.

Super sized feeding tray is great for placing lot of food items.

Scratch free wheels will keep your hard floor safe.

Stunning modern design.
Cons:
You will need to purchase the seat and related accessories separately to use it.
Conclusion & Editor's Choice
You know what, just don't waste your money on expensive models that don't add too much value! We think Beaba is the best high chair for counter height tables and it comes in an affordable price range.
Its feeding tray reaches all the way up to 36.5-in and that's the highest in the market. You will be able to use it with bar height tables as well. The frame durability and the seat quality is up to the mark. Overall, you won't get disappointed buying this!
If you think you need some extra features like portability or reclining back, you can look at the other models. But in that case, you will have to pay more for those!
Let us know what worked for you!