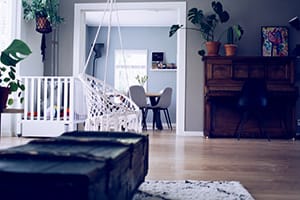 Since you have stumbled upon this page, I gather that congratulations are in order. Let me tell you one thing. You are already the caring parent your wee one deserves if you are planning to create a happy environment for him or her.
Decorating an idyllic nursery is challenging but super fun at the same time. It's totally fine if you live in a small apartment with very little floor space to work with. My family of four including my twins live in a small apartment in Ontario.
I had to do some major thinking and web digging to get nursery decoration ideas. And I have no qualms admitting that I nailed it!
The key is to be smart enough to make the most use of all the space you have, be it big or small. Today I want to share some of those ideas with you to help you design a dream space for the youngest member of your house without shooting up your budget through the roof.
Here we go:
Bright and Cheery Color Scheme
Bright accent colors or a soft and simple color scheme? It totally depends on how you picture the nursery. Since I am a sucker for minimalism, I opted for the classic black and white color scheme.
If I had another room to decorate, I'd go for a soothing sage green or lavender. Whatever color scheme you choose, make sure it makes the room feel radiant, alive, screaming of joy.
Choosing a Theme
Ah! That's where the real confusion kicks in, doesn't it? The theme of the room can be anything you want it to be. From the more conventional farm animals, nocturnal animals, cartoon characters, moon and stars to more whimsical themes like your favorite fictional character, bits, and pieces of the places you've traveled, seaside, stunning geometric patterns, it could be anything you want it to be. Go on, the world is your oyster!
Sleep and Chill Time Necessities
Rocking chairs are cool and all to chill with your junior but modern-day gliders are way more convenient. The back and forth rhythmic motion of baby gliders will make a crying baby calm the heck down faster.
Put an ottoman in front of the glider to create a nice space to blow off the steam and catch some sleep for yourself too.
Read Also: Gliders for Short Moms
Teepee Time
I wish my parents thought of putting a teepee in my room when I was a child. Tucking yourself and your baby inside a well-lit teepee, reading books to them over a plate of cookies will make memories both of you will cherish forever.
Idyllic Bookshelf
As a hardcore bookworm, I honestly couldn't imagine anything better growing up in a room with a well-decorated bookshelf. The rainbow bookshelf is the focal point of my twins' nursery.
If you don't have the space for a bookshelf, go for a plain wooden or custom-designed bookcase with a flat-top to keep all your baby essentials such as fresh diapers, wet wipes, rash cream handy.
Soothing Nightlights
Nightlights are a must-have nursery item. They not only help your baby fall asleep peacefully but also keep them entertained. In addition to a soft pink lamp for my daughter duos, I have also installed a cool-mist humidifier that does double duty as a soothing blue nightlight and a lullaby player. Perfect gadget babies who have a hard time falling asleep.
Blackout Shades to the Rescue
Babies have an erratic sleep schedule. They can't talk but they sure aren't dumb. If they see daylight, they will know it's time to party and not sleep. That's where blackout shades come to your rescue.
They block a generous amount of daylight, creating a perfectly relaxing night-time ambiance that'll help you junior fall asleep faster. Pick a colorful shade featuring cutesy designs and fine patterns to form an exquisite chiaroscuro in the nursery.
Side note: You can click amazing photos of your baby using this perfect camaraderie of light and shadow.
Jazz up the Crib
I would strictly recommend against putting any additional crib bedding for newborns due to choking risk. However, this doesn't mean you can't do anything to jazz up the crib.
Pick a cool shade of fitted crib sheets for the newborn. After a year or two, you can dress up the crib or bassinet with plush crib skirts, cute and chic pillows.
If you have the budget, opt for a contemporary design with accent colors or a transparent acrylic crib. Eclectic wallpapers, a rainbow tassel, soft toys, nightlight, and ceiling-high curtains will soften up the interior.
Go Wild with the Wallpapers
You can either pick the color scheme of the wallpaper in keeping with the overall decor of the nursery or mix and match. A great thing about babies is that they can't talk, therefore, can't give a counter-opinion. Good for you. Go loco and choose any wallpaper mural that catches your fancy. Just make sure they are jolly, colorful and baby-appropriate.
Keep It Clutter-free
This is probably one of the most under-utilized baby nursery ideas of all time. A happy space is a clutter-free space. Make sure to set up space-efficient storage spaces in the nursery to have enough space for your baby to freely crawl or run around without constantly bumping into things.
The Bottom Line
Upbeat or minimalistic? Fancy or simple? That depends on how much space you can spare, your budget and most importantly, your personal preference.
If you ask me, creating a happy space isn't about stuffing the room with fancy gadgets and gizmos. It's about understanding what brings a person true joy. I repeat babies are not dumb.
They can easily sense both positive and negative energies. So if you really want to see your baby grow and thrive in a happy and safe space, don't forget to keep yourself happy too. You will know the importance of this as your kid grows up.