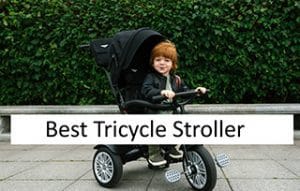 A tricycle stroller combines the freedom of riding a tricycle with the safety of a stroller, which is why both kids and parents love these kits. The best tricycle strollers today's market has to offer can easily grow with your child's rapidly developing height and weight. 
Choosing a quality tricycle stroller for your precious one can be a bit overwhelming. There are literally hundreds of products out there with similar features and aesthetics, some of them are there just for show.
Separating the cheap knock-offs from the genuine ones could take hours of tedious research. That's where this article comes to your rescue. 
I have taken care of the tedious research bit to make your choice easier. Below, I have broken down the ergonomics and functions of 10 tricycle strollers I can trust. 
Let's have a look:
10 Best Tricycle Strollers of 2021
1.besrey Baby

7 in 1

Tricycle Stroller
Besrey is a foldable tricycle stroller that'll keep growing with your kid and accompany him for up to 6 years of his life. The stroller form of this adaptive tricycle is a perfectly safe and comfy mode of transportation for newborns. 
It comes with all the necessary accessories you'll need for the assembly. You just have to meticulously follow the assembly guide and make sure all the screws and clips are properly tightened. 
It is equipped with a rear-facing seat for the optimal safety and comfort of newborns. The same seat can be swiftly reversed and transformed into a reclining stroller seat for a toddler. To level up the comfort, the front-facing seat comes with a high-back, adjustable (110-145 degree angle) recliner. 
The seat height adjusts in a jiffy and it has a 3-position safety harness along with a detachable crossbar that your child can hold onto while you push the stroller. It also includes a wide canopy to keep the heat and rain out of the way. 
Now, coming to the tricycle part, it's just as sturdy and cozy as its stroller counterpart. It comes with big rubber wheels which add extra stability and smoothness to the ride by soaking up vibrations from the ground. You will notice a red lever at the bottom of the handle. Pull it to remove the pedals. 
Alternatively, if you simply want to lock the front wheel while pushing the trike, press the red button near the front wheel. It also features a foldable footrest for children who are (yet) not tall enough to reach the pedals. 
My only issue is with the safety straps. Even on the smallest setting, it could be a bit loose for an average built kid. This minor drawback aside, it's a gem of a convertible stroller trike. It even has a cool storage box where parents can stash toys, snacks, water bottles, and stuff while hanging out with their little ones in a park or beach.  
2.

Radio Flyer All-Terrain Stroll 'N Trike
The next stroller tricycle combo to grace this list of the best tricycle stroller comes with all-terrain tires which are definitely worth the extra money, in case you're wondering. You can take it out for a spin on driveways, mulch, or even mud for fun without having to worry about safety. 
The 2019 and later models come with the same removable footrest shown in the picture. However, if your child is tall enough to reach the pedals but not pedaling yet, he can use the pedals as a footrest as they don't automatically move with the front wheel.  
The reclining seat in the stroller sits upright in the tricycle stage. I wish the seat was height adjustable, though. You can securely buckle your kid in the seat and go for a trip to Disneyland or the museum. It has an adjustable canopy too to keep your bub cool and comfy in broad daylight. 
You can also put some snacks and small toys on the front snack tray and small items like keys, cash, wet wipes in the small storage compartment at the back. It also features a cup holder that can nicely fit a standard-sized water bottle or even small travel coffee mugs. 
An extendable pushing handle with very little play is a great touch. Steering the trike-stroller straight through all terrains is a breeze unless you are speed walking. 
It's a versatile convertible unit that's a joy to cruise around a theme park or backyard if you can deal with a tire off-gassing. However, I won't worry about it much as the smell goes away after just a couple of days of use. 
3.

smarTrike Smartfold 700 Folding Baby Tricycle
SmarTrike is a perfect little travel companion that's lightweight yet sturdy enough to survive after taking a lot of beating. You can just fold the entire unit in seconds without having to detach any part. Imagine having the convenience of a foldable stroller trike during a Disney trip where you have to constantly hop in and out of buses? Priceless. 
It doubles up as a jogger stroller too, thanks to the one-touch button front wheel locking system and back wheel brake system. Navigating the overcrowded lanes of theme parks or beaches should be a breeze with its shock-absorbing wheels. The wheel quality isn't top-notch, to be honest, but for a budget trike stroller, it is as good as it gets. 
It also features a 360-degree swiveling seat to accompany your child from infant to toddlerhood. The seat reclines and has an adjustable canopy attached to it as well to help you junior take a quick nap in the middle of a long day out. 
Like all the great stroller tricycles, it also sports a small storage bag for your essentials and a long, robust steering handle. It easily transitions into a full-fledged tricycle with an adjustable seat and a 5-point harness system to keep the little rider comfortably and securely seated. It also features a footrest which most 2-year-olds can reach easily. 
The downside to this model is that the folding/unfolding mechanism has somewhat of a learning curve. 
4.

Doona Tricycle Stroller
Although this one belongs to a rather pricier side of the spectrum, the abundance of useful features and durable construction makes every penny worth its while. 
The biggest USP of this model is that it comes fully assembled to your doorstep. Hence, no need to take your toolbox out and spend hours trying to figure out what goes where. Another standout feature is its compact size when folded. It folds and unfolds in a jiffy and can be easily tossed in the trunk of a car for fuss-free traveling with a baby. 
The bold black frame with yellow accents on the pure rubber wheels lends a premium feel to the trike. You can simply detach the pedals and use it as a regular stroller till your bub grows old enough to take control of the wheels. The pedals on the trike can fold into the frame to serve as footrests if your kid is still learning the ropes. 
It also features a small storage bag at the rear for your travel essentials like water bottles, cash, diapers, and stuff. Overall, it's a solid piece of stroller trike to invest in if you are okay with forking out extra money for ultimate portability, this convertible will serve you well. 
5.

Little Tikes Perfect Fit 4-in-1 Trike
This cute teal model is one of the most aesthetically-sound products on this list of the best tricycles strollers. It's a tad larger than most trike strollers, which is why it can comfortably accommodate 5 to 6-year-olds too. 
The adjustable reclining seat comes with buckles as well as a safety bar to prevent the child from falling out of the trike. I love how easily you can push the sunshade forward or backward to block the sun from different angles. 
The back of the stroller includes a large and cute storage basket as well as a cup holder. In the parent steering mode, the pedals can be locked to prevent the child from taking over the control. The package also includes a detachable full foot platform to keep your child's little feet bruise-free till he learns to pedal and steer the trike on his own. 
Steering the trike stroller straight using the adult push handle takes some practice and patience. Also, putting all the parts together by following the vaguely written instructions can be a real pain. So I'd suggest watching video tutorials or take the help of someone who is good with tools for the assembly part. 
6.

Joovy Tricycoo Kids Tricycle
What's the point of investing in a trike your child will outgrow in the blink of an eye? This 4-in-1 tricycle stroller can be a loyal companion to your kid from 6 months to 6 years of his life. I'd suggest buying this for a baby who already has full head control. That's because the seat doesn't recline. 
However, it's nicely padded and easily adjusts to 3 positions. It also has safety buckles to keep the rider securely attached to the seat. If you are not yet ready to let go of the control, simply detach the pedals. 
And for those who are ready to learn the ropes but can't quite reach the pedals yet, there's a foldable footrest too. Extra points for adding a completely removable UVF 50 sunshade to block harmful UV rays. There's a spacious storage basket at the back and a small cup holder for your tricyclist at the front. 
I loved the quality of the wheels on this tricycle. The rubber treaded wheels provide excellent stability on dirt and gravel roads, mulch, grass, as well as mud, making it a good choice for both on and offroading. 
The parent steering wheel has a noticeable amount of play, which is the only noteworthy downside to this product. Walk too fast and you will struggle to keep the trike straight. 
7.

Costzon Baby Tricycle
The next foldable tricycle/stroller is great for weekend day outs with your bub. And with a few simple changes here and there, you can transform it into a regular tricycle for toddlers. Its key tricycle elements include foldable ABS foot pedals for kids who are still learning how to balance themselves on a trike. 
It features a solid direction controlling handlebar which doesn't wobble or go out of line with the front wheels the moment you change directions or start walking a little too fast. So brownie points for smooth and steady steering. 
The tricycle is equipped double brakes that can lock the rear wheels, if needed, for your peace of mind. Its wheels are made from real rubber for improved traction and stability on lawns, dirt roads, mud, and sand. 
Although it is designed to do double duty as a stroller too, the seat doesn't come with adequate back and head support. So I'd suggest this model only for babies who have enough neck and upper body strength to hold their heads up steadily. 
The manufacturer has set the minimum age 1 year for this product but even younger babies can take a stroll in it as long as they can sit straight on their own. The metal seat isn't adjustable but has a generous amount of back padding. 
You simply need to remove the padding to convert the stroller seat into a tricycle seat. It has a waist strap and buckles to keep your muffin stay put while she cruises around the backyard on her new tricycle. 
Overall, it's an excellent trike for offroading for the price if you can get past the small size of the footrest. Also, the mesh bag that comes with it hangs too low, making it a bit hard to reach for tall people. 
8.

Radio Flyer Ultimate 4-in-1 Stroll 'N Trike 
Radio Flyer tricycle strollers are known for their sturdy and durable build quality and this one is no exception either. This infant stroller smoothly transitions into a nice and compact learn-to-ride/classic tricycle with a harness, locking wheel mechanism, and foldable footrests for extra safety for your child. 
It sports a long push handle that allows smooth and flexible steering for both on and off-road riding. If you are not very confident about your handyman skills, this would be a good place to start. 
There are very few parts to remove and attach to convert the stroller into a regular trike. The stroller comes with an adequately padded seat that can be easily moved closer to the handlebar in the tricycle mode. 
9.

Qaba 2-in-1 Baby Tricycle Stroller
If you are looking for a rather simple, no-nonsense stroller tricycle with rugged metal construction and rubber wheels, this might as well be it. It comprises a sizeable foot stand and removable pedals to keep your baby's feet from bruising from the rotating pedals in the early stage. 
The quality of the push handle is another standout feature. It's a long, grippy handle that retracts easily and has minimal play when you're changing the directions. I wish the handle locked in place for more stability while steering, but I can get past it. 
To make your weekend vacation with bub a breeze, the stroller comes with a cup holder, a storage basket for the baby's stuff, and a multi-pocketed small bag at the rear for cash, keys, and snacks. 
The wheels are made from rubber so, it shouldn't have any durability issues. My only beef is with the vaguely written. You might as well get the assembly done faster using your common sense than trying to figure out the instructions on the box. 
10.

KidsEmbrace Paw Patrol Tricycle

Stroller
Summing up the list of the best tricycle strollers with a superbly easy-to-assemble unit. 
Paw Control is a well-constructed and easy-to-ride 4-in-1 unit that features a padded seat with a high back support for maximum comfort for your junior. The seat is contoured and feels soft against the baby bottom, meaning your kid won't burn out even after a long day of scooting around. 
It sports a larger and wider than usual UV canopy, parking brakes, buckle system, and a parking brake for optimal convenience during travel. I liked the fact that the adult handlebar size is adjustable from 31.75-38". 
It will be pretty much impossible for an average child to take over the control when you are pushing and steering. Pedals folding down as a footrest when the child is not pedaling was an ingenious idea by the manufacturers. 
Alternatively, you can also lock the pedals by pulling up the level on the front wheel. The only negative is that this otherwise travel-perfect stroller trike combo like this is not foldable. 
Conclusion
Here's the drill: the best tricycle stroller needs to be best both for the child and the adult who will be pushing it. 
Tricycle strollers are equal parts fun, therapeutic, and useful. It helps your kid develop gross motor skills and coordination between several muscle groups. At some point, they would want to ride a tricycle on their own and eventually transition to a bike. 
So it's better to better to prep them from an earlier age with an adaptive tricycle like Besrey Kid Trike 7 in 1. This is a robustly build spacious convertible that comes offers a genuinely quiet and smooth ride. Navigating the stroller quickly through bumpy roads should feel like a walk in the park with its long push handle and sturdy rubber wheels.