Is your baby waking up frequently on summer nights? It's a worrisome matter to deal with if your baby isn't getting proper sleep. Summer days are beautiful & shiny but the excessive heat can be the reason behind your baby's uncomfortable sleep.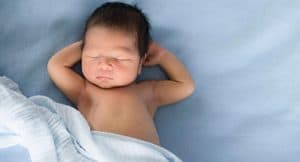 So, are you looking for proven ways to keep your baby cool at night in the summer months? Here we are going to discuss the most effective ways to divulge comfortable summer nights for your baby. 
Here Are Some Tips For Keeping Your Baby Cool at Night
Always make sure your baby is hydrated on the summer days. Warm weather is a very sensitive time for babies to get dehydrated easily. 
If your baby is on breastmilk, you have to make sure to increase the breastmilk quantity to 50% then. Otherwise, you can feed your baby other fluids while the baby is more than 6 months. 
And for more than 6 months of older-aged baby, decrease the level of the solid food to the possible limit.  
You should never skip a bath for babies to keep them clean, healthy, and hydrated. Babies find it a bit discomfort to sleep properly on summer nights more if they are being bath skipped. 
It's very easy to give them a healthy sleep if you are ensuring them a cool bath regularly. If your baby is continuously having a sticky feeling at night then you can allow a cool bath just before bedtime. 
Get an air conditioner right away if there is no AC yet in your baby's room. 
To maintain comfy sleepy weather for the baby in the summer months, an AC plays a vital role. You just need to look for the perfect ac for a baby room which comes at a reasonable price with all the latest features. 
It's cool to keep the baby well-dressed throughout the day. But for the night they don't need to be fully dressed. You can bring airy and loose-fitting dresses for the nighttime.
There are certain types of clothing fabrics to provide a comfortable feeling to the baby in the summer months. Among all the fabrics, cotton is preferably comfortable and breathable. So, you can opt for cotton dresses for your baby. 
Applying a cold compress for minimizing the temperature is an instant way. If your toddler is already overheated and is feeling terrible, then trying some cold compress will turn your baby cold rapidly. 
For applying cold compress properly, you need to take a muslin square cloth piece by wrap a few pieces of ice cubes into a zipped bag. Now, keep this under the buggy of their crib or bed for the rest of the night. 
It's better to wrap the ice bag with a larger muslin bag. So, the baby won't catch cold directly. 
What Should You Avoid Doing To Keep Your Baby Cool?
 Don't Feed Them Too Hot Food
Feeding babies too hot a meal can increase their internal body temperature. So, you need to make sure you're not feeding your baby a hot meal. 
Keep the Body Posture Right
Body positioning is very important in summer times. While your baby sleeps on the stomach, it makes their body warmer and less breathable. Always make the baby sleep on their back. In this way, their front body remains open to the air and stays breathable. 
What are Some Helpful Gadgets to Keep Your Baby Cool at Night? 
Some babies have sensitivity to the air conditioner. So, you can install a fan direct against the wall facing your toddler's crib or bed directly. A fan is enough to keep the room the cool whole night. 
Else, you can go for a room thermometer to keep track of the temperature always. When the temperature rises, you can take steps according to that. 
Conclusion:
There is a myth to covers the toddler's body with a blanket or anything. Well, it's a very bad practice to prevent airflow. 
After all the above-described concerns if your baby is still warm at night, you can keep the windows open if there are no risks of mosquitos or other things.