If you live in a place where the temperature outside is too hot, it's definitely worth it to get an AC for the nursery as babies can regulate their own body temperature.
Buying an Ac is not an easy task. You need to consider a lot of stuff like AC power, cooling capacity, functionalities, and in this case you need to also ask yourself "what features make an AC suitable for the nursery?"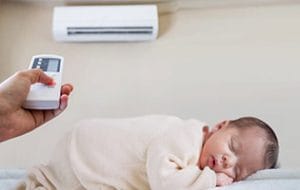 We tested out more than 20 Air conditioners that can cover small to medium size rooms (like that of a nursery) and also had to consider the price as an expensive unit won't be feasible and likely to be overkill.
Based on our testing and research, we finally found the 7 best air conditioners for baby room. Not all of them have smart features. If you go down that line, the price range will also become high. What we listed here are super functional ACs with child-friendly features.
Check them out!
7 Best air Conditioners for Baby Room – 2023 Reviews
| Product Name | Coverage Area | Noise Level | |
| --- | --- | --- | --- |
| BLACK+DECKER Air Conditioner | 150 sq ft | 51 dB- 53 dB | |
| Frigidaire Air Conditioner | 250 sq ft | 51-55 dB | |
| GE Profile Air Conditioner | 350 sq ft | 43 dB | |
| hOmeLabs Air Conditioner | 450 sq ft | 54-59 dB | |
| LG Air Conditioner | 450 sq ft | 53 dB | |
| Midea Air Conditioner | 750 sq ft | 42 dB | |
| TOSOT Air Conditioner | 300 sq ft | 49 dB | |
1. BLACK+DECKER BPACT08WT Portable Air Conditioner
Coverage: 150 sq ft
Noise level: 51 dB- 53 dB
Lowest temperature: 65° F or 18.3° C
Black & Decker is a household name in the world of electronics. When it comes to an AC, it seems the brand still keeps up to its reputation. The BPACT08WT is surely the best portable air conditioner for a baby's room especially because it doesn't take a lot of space and is super easy to install.
This AC does a great job in cooling a small space when the temperature outside is under 95 F. If you live in conditions where the temperature outside is hotter than this, you should look for a window AC from our list. The AC's temperature doesn't get too super freezing, but still comfy enough for a baby nursery.
Apart from cooling and fan, this AC also has a dehumidifier function which is great for controlling mold growth and allergy attacks. Moreover, there's a 24-hour timer that lets you control air temperature throughout the day without disturbing your baby's sleep.
The sound levels of this AC are moderate and won't hamper sleep. You can take it a few notches down when you keep it on sleep mode. But the display will still be there. So, you can apply tape over it or leave it that way if your baby isn't fussy with lights.
The filter on this AC is washable and can save you money over the years. It would have been nicer if the louvers were adjustable. So, you can't really change the direction of the airflow.
2. GE Profile  2-in-1 Smart Air Conditioner
Coverage:  350 sq ft
Noise level: 43 dB
Lowest temperature: 61° F or 16.11° C
It's hard to find a quiet window AC. But GE profile nails it with only 43 dB at the lowest temperature. This could be the best window AC unit you were searching for your baby's room. For a small to medium size nursery, this is more than enough.
The temperature on this Ac goes down to 61 F. Even if you live in a region where the temperature goes up to 100 F, this AC will still keep your baby cool and sleeping all day. On top of that, it has 3 cooling and 3 fan speeds which make the unit energy efficient.
A lot of the window ACs have no smart functions at all, or the functions don't work smoothly. The GE profile is an exception. You can easily connect the AC with its smart HQ app and control the AC even when you are away. It is also compatible with Alexa and Google assistant. If you have a smart home, this unit will be a lot more functional for you.
Based on experience, we have seen that the tends to run louder when water builds inside the compressor chamber. So, you can remove the plug sometimes to let the water out and the unit will run quieter.
The light on the control panel is too dim and in lights, it's hard to see. However, this is also a good thing as it won't disturb your sleeping baby.
3. TOSOT 8,000 BTU Portable Air Conditioner
Coverage: 300 sq ft
Noise level: 49 dB
Lowest temperature: 61° F or 16.11° C
Despite being a portable AC, Tosot can reach comparably lower temperature settings and keep your baby's room always cool. It's got certain child-friendly features like child lock and night mode that make it the best air conditioner for your baby's room.
You can install this AC with both horizontal and vertical sliding windows. So, you won't have to worry about what kind of windows you have at home. The filter on this one is washable and it will save you money over the years.
Apart from cooling, the AC will also dehumidify your baby's room. It's capable of removing almost 1.1 Liters of water per hour which is totally worth it. This will ensure that the condition of the room is dry and the air will be much cooler compared to a humid and wet room.
This AC doesn't have smart features and Wifi connectivity. However, the 24-hour timer gives you a bit of freedom and control over how you want your AC to cool the room throughout the day. With a baby in a room, this functionality makes sense.
We were super impressed by two features. First, you can activate child-lock by pressing the + and – buttons for 3 seconds. Even if your toddler is a naughty one, he won't be able to make any changes. Next, you can activate the night mode and this will turn off all lights on the control panel. So, no more disturbances during sleep.
The only flaw we found was the AC goes totally silent and also turns its fan off when it reaches the set temperature before its starts again.
4. LG Mounted Wi-Fi  Smart Window Air Conditioner
Coverage: 450 sq ft
Noise level: 53 dB
Lowest temperature: 60° F or 15.55° C
LG ACs are always up to the mark when it comes to performance and quality. This window AC will work like charm in your baby's room and will quickly cool down the room irrespective of the outside weather.
Speaking about quality, this AC meets the high standards of the Energy Star program. As such, you can expect it to save a ton of electric bills. The Ac goes as low as 60 F and together with the auto cool feature, you can customize the temperature as you want.
Apart from using the remote control, the LG AC has wifi connectivity. It can be controlled by a smartphone app and Alexa. Having these features are always great. Sadly, these features aren't fully functional. You can connect this to the app, but the connection is not stable. With Alexa, the connection is even more problematic and then you will have to manually enable Alexa skill for LG to get it to work.
Despite the not-so-great smart features, it's still an awesome functional AC. The sound level is not extraordinarily low. But 53 dB is bearable for babies without sleep disruption.
5. Midea U Inverter Window Air Conditioner
Coverage: 750 sq ft
Noise level: 42 dB
Lowest temperature: 60° F or 15.55° C
The Midea U is one of the top Ac units you can buy for a nursery. Its innovative U shape design minimizes noise and lets your baby deal with just 42 dB of noise which is way too low when it comes to window AC.
This AC has one of the lowest temperature settings on our list and can handle extreme hot weather conditions. Its smart features are top-notch and give you the ability to control the unit using its smartphone app as well as Alexa.
You can literally control everything on the Ac remotely with the app from setting temperature mode to set schedules. Connecting with the App is easy. But you will need to give some time and thought when it comes to connecting with Alexa.
There's a reason why Media is considered one of the best air conditioners for baby rooms. The U design keeps the noisier part of the AC along with the compressor outside of the window. What remains inside your home is the blowing part and LED panel that doesn't give off too much noises.
A lot of parents want their baby's room to be completely dark. You can get the LED panel lights to go off using the app and it will stay off until you press any button. Overall, Media looks like it has developed a super functional AC with not so many flaws.
6. hOmeLabs 10,000 BTU Window Air Conditioner
Coverage: 450 sq ft
Noise level: 54-59 dB
Lowest temperature: 61° F or 16.11° C
The powerful AC from Homelabs might be just what you need for your baby nursery. If you are not looking for super-smart features, this AC has all the functionalities you need to cool a room efficiently.
To control the Ac you can either use the control panel or the remote control. We were really impressed by the auto mode as it does a great job detecting the conditions and changing its mode accordingly. So, depending on the conditions, it will either cool, dehumidify without cooling, or run the fan.
Homelabs have a few minor features that are really helpful. It has an eco mode that turns off the AC when the desired temperature is reached and turns back on when required. You can also set a timer for the same purpose and have more control over it.
With the range of features, you get with Homelab and on such a budget, it really is a value-for-money AC to get for your baby nursery. The only thing to improve could be the remote sensors. You will have to point it directly at the AC, otherwise, the sensor will not work.
7. FRIGIDAIRE Mini-Compact Air Conditioner
Coverage: 250 sq ft
Noise level: 51-55 dB
Lowest temperature: 62° F or 16.66° C
Here's another window AC unit for the baby nursery. You may not have heard about Frigidaire, but the company makes functional ACs that are okay compared to other known brands.
You can use the remote control to adjust all the settings in it. The 3 fan speeds offer cooling flexibility. Other than that, you can use the 24 hr timer to schedule the AC. So, even if you are away, your baby will remain comfy.
You can also decide to keep the AC in sleep mode. The temperature will gradually increase over the evening making sure that the room isn't too cold. If you live in a basement apartment, there's a dry option for you. This will dehumidify the room and ensure that AC cooling is more efficient.
The only complaint is whenever you adjust the setting of the Ac, there will be a beeping noise. This might wake up the baby. So, you need to set it up before the baby sleeps so no changes would need to be made later.
Things to Keep In Mind When Buying an AC for a Baby Nursery
In general, you will need to look at a few things before buying any AC, but if you are buying specifically for your baby's room, you will need to look at a few things more other than the AC's cooling coverage, power consumption, and brand value.
1. Child-friendly features
You might not get all of the features listed below in a single AC. Having most of them will definitely make it favorable.
A lot of modern ACs have a sleep mode. When you switch to this mode, the AC will keep on increasing its temperature by a few degrees every hour. If you are not sleeping with your baby, this mode will ensure that the temperature isn't freezing inside the nursery and the baby is sleeping at an optimal temperature.
The 24-hour timer lets you set a specific time for the AC to turn off and on. This feature is really helpful if the AC doesn't have smart features and you want the room to be cold before you enter the home.
Some ACs like Tosot 8000 allow you to turn off all lights on the control panel when the baby sleeps. If you have a baby who is too much sensitive to light, this feature is a must-have for you. Otherwise, you will need to use tape to cover the lighted-up areas.
Almost all ACs these days have a dehumidification function. Some have auto dehumidification capabilities which assess the room's moisture content and then dry it off. Others, you will have to turn on the dry setting. This is almost mandatory because a humid room will take more time to cool and allergens can also form.
2. Noise level
Low noise level is the hallmark of the best air conditioners for a baby room. Just like how a dark room can help baby sleep, a quiet room is also essential. Any Ac with a noise level below 55 dB is suitable for a baby's room.
Some babies sleep really well with the AC's humming noises that replicate white noises. Others need a quieter atmosphere. In that case, go for the Media U inverter AC as it's one of the quietest window ACs we have tested.
3. The lowest temperature setting
Depending on your outside weather conditions, you will have to look for the AC's lowest temperature setting. So, if it's not too hot outside, ACs that reach 65 F will do. If the temperature outside reaches more than 90F, you will need to get an AC with the lowest temp settings of 61 F or lower.
4. Window AC vs. portable AC
This is totally up to you. If you need to move your baby frequently from one room to another, then a portable AC might work for you. Window ACs have more power and are capable of cooling your room faster. With portable units, it will take some time to cool.
5. Connecting with App or Alexa
Having smart features like controlling with the app or Alexa can really give you more freedom. So, if you are away, you can turn off/on or change the temperature settings. Check out Media U for the best smart features.
Can You Put An Air Conditioner In Baby's Room?
Using an AC in a baby's nursery is totally safe and sometimes recommended by a doctor if the outside temperature is hot and humid. Babies react more to the outside weather.
So, when it's too hot outside, your baby will have a hard time sleeping. Moreover, ACs act like ventilators as they take out the air inside and replace it with fresh cool air.
What sort of temperature and positioning of the AC is ideal for a baby nursery?
The ideal temperature for a baby nursery with an AC should be between 60 F to 68 F. Something in between this range would be the best for most babies to sleep peacefully.
You might think this is too cold, but that's safe enough for babies. Just make sure that the AC is not directly blowing air into the baby's face and that could make your baby sick or catch a cold.
Checklist for the Baby Room When Using an AC
Use the 24-hour timer on the Ac to maintain the ideal temperature. You don't want it to be too high or too low.

Use the dehumidification function if the air is too moist to avoid allergens and mold build-up.

Cover up your baby in light clothing so that the air doesn't hit him directly.

Moisturize your baby's skin regularly to avoid dry skin issues common with ACs.

Avoid taking your baby to a warm place right from the AC nursery.

Clean the filter and schedule for servicing regularly.
Conclusion & Editor's Choice
If you are looking to get the best air conditioner for your baby's room, you have two options either to get a portable AC or window AC.
The Black+Decker portable AC should be perfect for a small nursery and will save you time and money for the installation. If you want a window AC, the GE profile 2-in-1 or the Media U would be the best choices.
Related Post: