Getting into the pool a lot these days? But… your 1-year-old baby is missing out on the fun!
Yea, you can take her into the water but that would be tiring and totally not safe!
Instead, get a floatie for your baby. It's an inflatable flotation device that gives your baby a place to seat and enjoy floating on the water safely.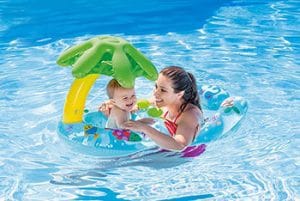 Over the past 2 months, we have bought and tested out 30+ floaties to see if they are really safe and what are their potential drawbacks. Finally, we concluded our analysis with 10 models.
We think these are the best floaties for 1-year-old kids as they remain stable in water, feel comfortable on baby skin, and most importantly don't leak at all.
Here's the full analysis of these floaties!
10 Best Swim Floaties for 1-Year-Old 2023
1. SwimWays 11649 Baby Spring Float
Weight limit: 35 lbs
Who doesn't want to enjoy a pool party? Even a 1-year-old can have fun with our favorite swim float from Swimways. It's designed to support kids from 9 months' age and surely the vibrant colors will keep them interested.
One of the features that make Swinways stand out from other flukes in the market is its dual inflation chambers. For a toddler at this age, you would want the highest safety achievable. The dual chambers ensure that if one of the tubes deflates, there's still another one to keep your baby floating.
This float is quite stable and because of its low profile, it's also easier for you to move it around inside the pool. When the sun is up, you can add the canopy. Depending on the sun, you can adjust the canopy forward and backward. The canopy will do the job, but it still isn't too big to provide full coverage.
Your baby can either sit up or put his legs through the holes. The holes are aligned in such a way that the baby will remain in a sort of reclined position. So, this will keep your baby in comfort if you are in the pool for a long time.
Most kids loved the mesh play area in between the two inflatable rings. Water will accumulate in this area and kids can splash. Keep in mind, a 1-year-old won't be able to reach the pool water and that's what you want from a safe floatie.
2. LAYCOL Baby Swimming Float
Innovative floaties like Laycol are designed to prevent flipping and add more fun to a baby's life. It's one of the best floaties you will find for a 1 to 2-year-old because it lets you learn the basics of swimming and in a much safer way.
This floatie keeps your child securely attached with 5-fold safety protection. It will help prevent any sort of slipping and flipping over. The good part is you can unbuckle your baby with just a single click.
Laycol will keep your kid at an angle so that the armpit remains at 40 degrees. This position is much more practical and gives your baby a feeling of the water. You can choose to keep him on his back or on his chest and the floatie supports both these positions.
Like the Swimways floaties, this one also has double air chambers. On top of that, the front side is raised and there's also abdomen support. The PVC material it uses is leakproof and CPC certified. So, you can expect it to last quite a long time.
The manufacturer will provide a pump to inflate the floatie. However, it's not always functional. It's better to use your mouth or any manual pump. It also comes with a canopy. But the material is flimsy and might not stand against light to medium breeze. Avoid using it in windy conditions.
3.

HECCEI Add Tail Newest Mambobaby Baby Swim Float 
Weight limit: 40 lbs
Heccei is one of the most functional flotation devices for 1-year-old babies. It has an almost flip-proof design and secured strap system that will keep you at peace in the water.
This is the deluxe edition of Heccei which has a newly added waterproof leather covering. So, the floatie won't get wet and will save you time from drying it. The outer leather is also skin-friendly and will keep your baby's skin safe.
Heccei is designed to keep your baby floated at 40 degrees angle. This means the baby will be in a swimming position. You can choose to keep your baby on his chest or on the back. The strapping system will support both positions.
The strapping system looks cool and not to mention that it will keep your baby on the floatie. Buckling up might take a few seconds, but you can easily unbuckle it with one hand and hold your baby with another hand. Now, there is a bit of criticism regarding the buckles. The chest straps are not enough to be used when your baby becomes bigger. But they are good enough for 1-1.5-year-olds.
The most innovative and unique aspect of the floatie is its removable tail. This tail attaches to the back of the floatie and keeps it from flipping. So, it's important, you have this on all the time.
4. Free Swimming Baby Inflatable Baby Swim Float
Weight limit: 38 lbs
The Free Swimming Baby float is almost identical to the Laycol float we reviewed earlier with a few minor changes. With that being said, it's one of the best learning floats for one-year-old toddlers because of the 40-degree design and how a toddler positions in it.
This floatie has raised front and widened sides in order to prevent flipping. The seat is soft enough so that babies won't slide out. Moreover, it has a 5 point harness strap that will lock the baby in and make sure that she stays in place. The straps although functional are a bit flimsy to our liking.
You will get a pump with the floatie. But it's not totally functional. Instead within a few minutes, you can blow it up with your mouth. Keep in mind it has a few inflatable chambers that need to be blown separately.
When you buy this float toy make sure to get the size L which is the optimal size for one-year-old kids. An interesting feature of this floatie is it has built-in bells inside. So, every time the float shakes, there will be noises. This will keep your baby interested for hours.
You will get a removable sun canopy with the floatie. If the canopy doesn't last, you can also find a replacement here.
5. Flyboo Unicorn Toddlers Floaties
Weight limit: 110 lbs
Who doesn't love a unicorn, especially when it comes in the form of a float? If you are looking for a great seat-type float for your 1-year-old, look no further. Despite having an upright design, this floatie is super stable and floats on the water without flipping ever!
The best thing about this floatie is it's made from a 0.35mm thick PVC material. This is a lot thicker when compared to similar floaties in this price range. Because of the high-quality material, it holds air longer and also will last for years.
You will find two airbags on both sides of the inflated ring. These airbags are not just for aesthetics. They add balance to the floatie and prevent it from flipping on either side. What's more? There's a safety string attached to the floatie. While you are in the pool, you can grab onto it so that the floatie doesn't go too far.
The quality of the floatie is also evident from its weight limit which is like 50 kg or 110 lbs. Upon testing, we found that even 6 to 7-year-old kids can float on it safely without any sort of deflation or sinking issues.
There are two holes for your baby to put her feet inside the water. However, sometimes maybe because of quality control issues, the edges around the hole are rough. So, it might scratch your baby's legs. But it's nothing serious to cause any injury.
6. SwimWays Inflatable Octopus Pool Float
Swimways makes some of the best swim floaties for 1-year-old and up babies. This octopus float is yet another addition to their armory. Why you should get this one? It's safe, stable and the octopus character simply makes it irresistible for babies to not ride on this.
To make the float stable, Swimways have added dual inflatable chambers. So, if one fails, the other will still be enough to keep your baby floated. It also has an innerspring for added stability against water movement.
In front of where the baby will sit, there is a nice smiling octopus that also turns 360-degrees. It's got 4 legs and each leg have a toy of its own. Your baby will really enjoy her time in this float and make long-lasting memories.
Moreover, the inner ring has a mesh area that lets water seep through. This lets babies play with water without getting into the pool.
This float like the others comes with a sun canopy. It won't offer full coverage, but enough to keep the baby away from sunburns. The sides are covered with mesh for keeping an eye on the baby. If you feel, the view is blocked, you can always remove the canopy.
The one thing we would like to see is an inflator pump to come along with the float. With mouth alone, it could be a bit tiring to inflate it.
7. HSOMiD Inflatable Airplane Swimming Float
Weight limit: 88 lbs
Looking to up the fun and add some imaginative roleplay while your kid is in the pool? This HSOMiD airplane float is awesome and you can be sold just by looking at the design. Your child will definitely cry for it and want to get into the pool fast.
Safety-wise, it has great balance because of the two airplane wings on each side. These wings might look like a design inclusion. But in reality, they help to balance the float and decrease any chances of flipping or rotation.
The steering wheel on this float airplane makes it even more fun to watch. Moreover, there is a horn and your baby can press it to make bebe noises. There are two holes inside the seat for baby legs to go inside the water and this will make pool time a lot more interactive.
The floatie has 3 air chambers. So, you will have to fill them up separately. The separate chambers make sure the float is safe even if one of them gets a leak. Compared to other floaties, this one deflates a lot quicker. It might lose 30% of its air within 3-4 days. It's better to inflate it every time you get into the pool.
8. Punada Baby Pool Float
Punada is a vibrant and cute little floatie that will bring life into your pool party. While adults enjoy swimming, babies can ride on it and enjoy the afternoon. This is one of the best floaties we have got for a 1-year-old baby. All you got to do is get it home!
The PVC with which the floatie is made is extremely durable and should last a long time. It can hold 44 lbs of weight. So, your baby has some room to grow and can use it until she is 2-3 years old.
We loved the addition of a steering wheel on the floatie. The steering wheel does spin and it also has a horn in it to make noises. Kids at this age will love playing with it. So, if the water isn't enough to get your baby excited, this sure will.
This floatie has two sturdy handles on each side. These can come in handy for both you and your baby. If you see your baby is just going a bit away, you can grab the handle and pull it towards you. There's also a canopy that you can attach and detach easily. However, the canopy doesn't always stay in place and needs adjustments frequently.
9. Peradix Baby Pool Float
Weight limit: 45 lbs
The little whale-inspired floatie from Peradix is amazingly cute. Your baby will look adorable in it and make your time in the pool enjoyable. This floatie is built strongly and you can use it for days without having to inflate it every time.
The PVC with which the float is made is strong and durable. So, it can take a beating and survive for years. The outer flotation ring is made large to aid stability. We also found that sitting on it for long periods doesn't cause any fatigue because of the reinforced safety seat.
From the first look, you will quickly notice the steering wheel on the float. It's not a gimmick. It actually rotates and also makes a squeaking sound when you press the button on the wheel.
You do have a canopy to protect the baby against the sun. The way the canopy attaches to the float is a lot different than others and is easier to attach. When you inflate the float, there are two balls on the side that are also inflated. All you have to do is insert balls into the holes of the canopy and that's it. Overall, this is the best pool float you can get for your 12-month-old baby.
10. Walsai Baby Swimming Float
Weight limit: 38 lbs

If you want a simple floatie for your toddler have a look at the Walsai floatie. It won't be as strong and durable as the others on this list, but will get the job done!
Walsai is a round float with no back or stomach support. Your kid can just put his feet through the walls, get a hold of the handlebars and enjoy the water.
Keep in mind, it doesn't have balancing or stability aid. So, there could be tipping over issues when the baby moves a lot. If you are supervising your baby, that shouldn't be an issue.
Things To Consider When Choosing The Best Swim Float For 1-Year-Old
1. The type of floatie
There are lots of different kinds of floaties in the market. Usually, you will find neck or simply arm floats. These are simple one-piece floats that offer a minimal amount of floating capability with high levels of risk.
The best pool floats for 1-year-old babies are those that have a seating arrangement and keep your baby out of the water. These floaties are inflatable!
We have tested several versions of these. A learning swim floatie will keep your baby at an angle so that she can move her hands and feet just like in swimming. Others let your child seat upright and put their feet inside the water.
2. Stability and balancing
Keep in mind, floaties are used for just floating and they are not life-saving devices. Having said that, you still want a floatie to be stable enough to not tip over with your baby's movements.
Good floaties will often have a larger outside ring that will prevent flipping. You will find features like raised front, raised sides, or even an inflatable tail that attaches to the back. There's a huge difference between floaties that have these features and those that don't have them.
3. Leakage prevention system
Floaties with more than one air chamber are the best. You will need to inflate these chambers separately. So, if any one of the chambers leaks for any reason, the other chambers will still keep the baby floated.
The material of the float also matters. Strong PVC materials are less prone to leaking and also hold air longer.
4. Canopy for sun protection
Canopies are certainly not mandatory. However, having one can be good for protecting your baby's skin from sunburns. The fact is you won't find canopies that provide full coverage. For safety, a lot of parents opt to not use the canopy as it tends to block the view of the baby.
Final Words
Hope you know by now which is the best floatie for your 1-year-old kid. Whichever model you buy, always make sure to be around your baby. Even if your floatie is safe and stable, you never what can happen the next moment. These floats are made for pool water or any water without any currents. So, avoid using them in oceans and high current lakes.
Related Article: