Once your baby is in preschool or steps into 3 years old age, you have to let him explore the world. For the growing kids, it's always very important to do funny and exciting activities indoors and outdoor.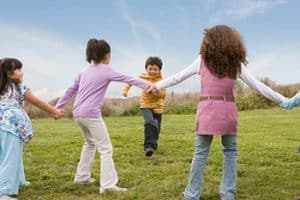 Preschoolers tend to be very playful. They love to play games. Playing different types of games enhances their motor skills and memory power. In the meantime, they get stronger physically. 
Here, we've pulled out the top 10 outdoor activities for 3-5 years Olds. 
Top outdoor activities for 3-5-Year-Olds
1. Swimming
Get a portable pool in the garden for your child. If you don't want to get a pool then you can have a big bowl to contain enough water to let your baby float there. You can also get some water toys. Let your baby have some fun there with toys and enjoy a vibrant time in the summertime. 
Read Also: Baby Floats With Canopy
Whenever you're letting your 3–5-year older child swim, you always should be there. Otherwise, you can also get him a life jacket and let him enjoy his own water time. 
2. Cycling
If your child is 3 years now, you can allow him a joyful cycle riding. Well, he won't start cycling overnight. So, get a scooter for your 3 year old or baby cycle for the starting. 
Don't bother to get 2 wheeled cycles. As bicycles need a lot of practice to get started. You can't risk getting your baby hurt or getting injured by falling. 
If your little kid doesn't have that much balance for cycling. You can also opt for a tricycle for your 3 old year baby to ensure safety. 
3. Mud Painting
It's always a classy option to be down-to-earth living. And you can make your baby start that. Let him love the soil, nature, and earth. Get your baby some water and fresh mud. Let him pour the water into the mud and make some messy puddles.
If you want, you can also join him and make some structures like a hill, bird, or anything. Else, you can start the fun and learn in the messy mud. Just draw letters (A, B, C, D…) or numbers, and let him do the same. In this way, he will get familiar with them too.  
4. Treasure Hunt
If you ask me what's the funniest and most enjoyable preschooler game, my answer would be straight "Treasure Hunting." You can get a toy or anything and show that to your child. Then tell him to close his eyes and wait until you tell him. So, in the meantime, you will hide that particular thing around and he has to find that. 
Every time he finds the treasure, you can reward him with something like his favorite food, or drinks, or let him enjoy his video games or TV show for some extra time. 
5. Hide & Seek 
You can't always play treasure hunt and enjoy it daily. So, hide & seek is the perfect alternate. Just close your eyes and ask your child to hide somewhere on the count of "1-10."
6. Gardening
If you have a front yard where you grow flowers, vegetables, or anything, just get your child on your team. Involve him with you in your gardening tasks. Like while you're watering the plants, give him a small water pot so that he can also spray water. 
While you're planting new trees, allow him to plant trees with you. In this way, he will learn gardening as well as being a nature lover. 
7. Red Light, Green Light
This is an old grandpa's generation game that we all have played. In an open field or spacious place, a group of children can play this game. One child will be at the traffic light at a fixed place where he will keep saying "Green Light, Red Light" keeping his back upfront to other players. 
Other players will start running to the traffic light as fast as possible but when the traffic light will turn their back suddenly. At that moment, players have to stay frozen, if someone is caught moving, he will have to go to the starting point. In the end, one will be the winner who would reach the tagline of the traffic light player. So, he will become the next traffic light. 
8. Marbles
It's a great time to recognize your children with marbles while they are 3-5 years old. Just get a bunch of marbles and let them play with them. You can allow them to play marbles in the backyard, garden, swimming pool area, or sea beach.
If there's no sandy place around, get some sand and make a room for them to play marbles. This game is pretty simple. The simple rule is to make a circle in the sand or soil and throw the larger size marble pointing there. Then just knock down the big marble with the smaller one. 
9. Nature Circles
This is not only an enjoyable game but also a knowledgeable game. You will have to take a piece of string and make a circle on the grass. Then simply ask your child to notice what they can see. Every time they tell you what they're seeing, you would change the circle into a different place.
10. Bowling
Make your kids learn how to set up a makeshift bowling alley using bottles, cans, or wood sticks. They will throw the ball pointing to the alley. Else, they can play the disc golf games if your baby is nearly 5 years old. You can also get some fantastic toys for your 5 years old kids to enjoy outdoor activities to the full edge. 
The Last Words 
Outdoor games are fun. But they also ensure healthy growth and mental flexibility. So, don't let your kid just be on Xbox or PS5. Let him first explore himself with nature and get to deal with some small but exciting fun challenges. That's how your kids will grow healthy and happy.