Shopping for a scooter for a 3-year-old can be an exhausting task. Pick a crappy one and you'll never hear the end of it, take it from me. Safety, ease of riding, height are the 3 main aspects to factor into while looking through your options. No compromises here.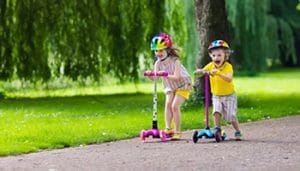 The next hurdle you will bump into is the eternal debate of scooter v/s bike. In my experience, a 3-year-old will be much better off with a scooter before leveling up to a toddler bike.
The scooters we will be exploring today are carefully designed to help your toddler quickly master the art of balancing with little effort. We have also made sure that these scooters grow with your kid and offer extra stability on challenging terrains.
So without any further ado, let's get started with this roundup of 10 best scooters for 3 years olds on the market today-
10 Best Scooters for 3-year-olds – 2023 Reviews
1.

Razor Jr. Lil' Kick Scooter
Razor Jr. deserves the top spot on the list of the best scooters for 3-year-olds for several reasons. For starters, its easy-to-push low deck design and heavy-duty steel frame of Razor Jr. is hard to beat.
Even though the weight limit specified on the box is 40 lbs, it can effortlessly handle kids up to 55 lbs. This particular model is the perfect size for 2 to 5-year-olds and capable of catering to super active and athletic kids.
The three-wheeled design for extra stability prevents tip-overs and is a big plus for toddlers who are yet to learn how to balance themselves. The rubber wheels are pretty large and deliver a smooth ride across most surfaces.
Its huge front wheel allows the rider to steer the scooter easily. I liked the fact that the steering is a little firm, meaning there's little to no wobble. The two rear wheels help to keep the scooter upright while your kid is just learning how to balance and steer.
Not to mention the scooter is a breeze to put together under 10-odd minutes. Overall, it's a well-built scooter for toddlers who are yet to learn balance and coordination.
2.6KU Kids Scooter
6KU is one of the safest scooters for 3 year old who is shit scared of tip-overs. The scooter is incredibly well-built with its extra-wide deck and wheels.
Three-wheel design aids in learning the act of balancing and steering with ease. It has a weight limit of 110 lbs which is quite rare for a toddler scooter. The braking system on top of the rear wheel is much better than what I've seen on most fancy-looking scooters.
Additionally, it uses a simple spring-loaded pin for quick height adjustment of the handlebar, allowing the scooter to grow with your child, one milestone at a time. Bonus points for being easy on the eyes too. All three wheels have LED lights which are activated by centripetal force.
The awesome flashing wheels also act as an added road safety element by improving the visibility of the vehicle. Another feature worth writing home about is its folding mechanism.
The handlebar folds easily with a push of a button located at the bottom, allowing easy storage when traveling by car. More importantly, it doesn't accidentally fold while riding. The whole unit comes fully assembled, so no need to fiddle with countless screws and bolts.
3.Swagtron K2 Three-Wheel Transforming Scooter
At #3, we have Swagtron that lies somewhere in the middle of the kick scooter-balanced tricycle continuum. This brilliantly designed convertible lets you switch between scooter and trike mode in just 2 simple steps.
The assembly instructions are pretty straightforward, so it shouldn't take more than a couple of minutes to put all the pieces together.
Not just for aesthetic purpose, the heavy-duty rubber wheels ensure that the scooter remains rock-solidly reliable, irrespective of the terrain.
These wheels are quiet as a cat, making it ideal for spinning around in small apartments. It's a sturdily constructed, no-nonsense scooter with no pedal, specially designed to help your kid with perfecting his balance.
The handlebar is connected to the front wheel, allowing the rider the navigate the scooter with ease. A balanced tricycle like this will make transitioning to a bicycle a lot easier for your little one.
My only complaint with the convertible is that the seat height is only 11" from the ground. Therefore, kids above 3 would be too tall to use it in the tricycle mode comfortably.
The only negative worth noting here is that despite the 44 lbs weight limit, the scooter won't be a good fit for kids above 3 years due to its short stature.
4. Beberoad Roadkid 5 in 1 Multifunctional Scooter
This brilliantly engineered multifunctional unit condenses 5 different vehicles into one frame.
It's a kick scooter, a balanced trike, a regular trike, a training bike, and a walking car, depending on how you assemble it. Switching through these modes is quite effortless after some initial trials and errors.
With a maximum weight limit of 44 lbs and a height-adjustable handlebar, kids from 2-6 years can benefit from this in very ways at different stages of their growth.
Now let's talk about the real stopper here- the wheels. Made of abrasion-resistant PU material and enhanced with an anti-pinch mechanism, these wheels roll smoothly on both concrete driveways and grassy lawns. Not to mention it's ultra-lightweight and compact for easy storage.
5. Huffy Kids Preschool Scooter
Being a Star War fanatic myself, I wish I was tiny enough to ride this SW themed scooter myself. I can't but kids up to 60 lbs definitely can. Apart from cool graphics, the construction of the scooter is also top-notch. The frame and handlebars are made of steel for unquestionable durability. 
Additionally, the wide deck and sturdy wheels make balancing the scooter effortless for toddlers who aren't 1005 confident about their balancing skills. Putting together the parts is as easy as it could possibly be. 
The installation can be summed up in 5-10 minutes without needing any special tools, depending on your handyman skills. 
6. Lascoota Kick Scooter for Kids
Giving our top picks a good run for the money, Lascoota Kick Scooters are a league of their own. Its reliable 3-wheeler design will help to build confidence in novice riders and give athletic kids an opportunity to take their scooting game up a notch.
As with all toddler scooters, this model too requires the rider to lean left and right to steer which is instrumental in building balance and coordination on wheels.
It even comes with an easily attachable and removable as well as height-adjustable seat for ride-along. Both the softness and width of the seat are perfect for small kids.
The handlebar height also adjusts to 4 positions to easily adapt to the height of the rider. Its maximum weight capacity, as mentioned on the box, is 110 lbs, so it should be okay to ride for up to 10 years of age.
7. Mountalk 3 Wheel Scooters
Mountalk, with its chic aesthetics and robust frame, can be the best scooter for your 3-year-old who is afraid to lose balance and topple over. Thanks to its high weight capacity and perfect handlebar height, the scooter can be your kid's constant for up to 8 years of age.
It uses premium PU wheels endowed with excellent shock absorption ability and grip on paved surfaces. The handlebars don't turn which means the rider needs to lean to change the direction.
It's not the easiest thing to do but definitely safer for little kids. Thanks to the two sturdy front wheels, navigating the vehicle is will be a fairly easy undertaking for most kids.
Moreover, the rear wheels light up when riding, which not only looks fantastic at night but also increases safety by improving visibility. The brake system is intuitive and allows your toddle to quickly gain control while speeding up.
8. I·CODE Scooter
A 3-year-old's first-ever scooter has to be something special. With a superior lifting lock handlebar and wear-resistant aluminum-carbon steel build, I·CODE is a truly special gear.
You can adjust and lock the handlebar height from 24.9"-33.8", implying even 10-year-olds can ride it with ease on the highest setting.
Unlike the usual scooters, this one uses flashy motion-sensitive LED lights on both front and rear wheels for an awesome night riding experience.
It employs the conventional lean-to-steer mechanism, making it a perfect choice for kids who will be learning how to balance and steer for the first time.
What's even more fantastic is that the design is collapsible. So if you wish to take it with you for camping and overseas trips to keep your kid entertained, that won't be a problem.
9. EEDAN Scooter
EEDAN scooters bring all the top features of the cream of the crop at a more affordable price. The reinforced aluminum brake pedal at the back is easily accessible. When pressed, it brings the speedy scooter to a quick and secure halt- a feature many high-end brands fail to execute properly.
Besides a terrific brake system, the 3-wheeler kick scooter also boasts of smooth steering. The wheels on this scooter turn in the direction the rider leans and applies pressure.
This time-tested turning mechanism eases the kids into balancing and controlling the three-wheeler and eventually, a two-wheeler. On top of this, the handle can be removed at the push of a button and tossed into the trunk of your car for easy carrying.
10. Allek Kick Scooter
Summing up this list of the best scooters for 3 year olds with this sleek and attractive scooter with extra-wide wheels. This one also offers a high weight capacity of 132 lbs, implying your kid will have to be at least 12 years old before outgrowing the scooter.
According to some users, it's tall and sturdy enough for their 14-year-olds as well.
The high-quality extra-wide wheels combined with slip-resistant extra-wide deck result in remarkable stability on concrete roads. Allek Scooters are suitable for children of all skillsets.
If your toddler is losing his sleep over the thought of losing balance and hurting him, this easy-to-navigate scooter would be a good place to start. The addition of no-slip handgrips on the handle and 4-position height adjustment further adds to the ease and comfort of riding.
And finally, the brilliantly designed rear braking system acts as the icing on the cake. The fender brake is wide enough to cover the entire rear tire, creating a very efficient braking system.
FAQ On Scooter for 3 Year Old
1. How to choose a scooter for a child?
Ans. Pay attention to the following factors while shopping for a scooter for a kid-
Number of wheels (three-wheel designs are a safer choice for 2-4-year-olds while older kids will benefit more from two-wheelers.)

Age-appropriate height and weight capacity. 

Frame material. 

Handlebar design and height adjustment options. 

Steering and braking system. 
2. What age is appropriate for a scooter?
Ans. The general consensus is that children who can walk steadily without anyone's help are ready to ride a kick scooter. Kids usually learn to walk with an easy gait between the age of 2-3, that's your cue.
Conclusion
Kick scooters are fun and a safe way for small kids to cruise around the neighborhood. The models featured on this list are all designed keeping in mind the height and weight of 3-year-olds. 
Kids are, well, kids, so we adults are responsible for their safety. Therefore, it's important to make sure we thoroughly check out what the scooter is and isn't capable of before your kid takes it out for a spin.
3-wheel scooters like Razor Jr. Lil' Kick Scooter have successfully managed to combine a fail-safe design with ease-of-riding to give your toddler the experience of a lifetime. If I have to pick just one from this competitive list of the best scooters for 3-year-olds, it will be Razor. 
Be it the smoothness of steering or wide slip-resistant deck- everything about this scooter screams quality. 
On that note, it's a wrap. Whichever model you pick from this list, hope your kid absolutely loves it.