Floaties are inflatable swimming aids designed to keep young kids afloat in the water. Depending on the type of floaties, children can wear them differently & get some freedom in the water.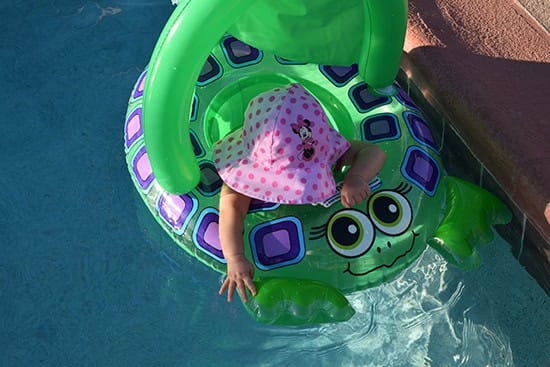 Floaties can be a great alternative to bulky life jackets & help children float even if they don't know how to swim. But, these floaties teach children poor posture and incorrect swimming habits, which won't give good results in the long term. 
You can already guess floaties have both good & bad sides. That's why as an informed parent, you might wonder – "should my child use floaties?" I'll help you decide whether your child should use floaties through this article. 
5 Questions To Consider Before Letting Your Child Use Floaties
You should ask yourself the following five questions before letting your child use floaties. These questions will assist you in determining whether or not you should give your child floaties.
1. How Old Is Your Child?
Age isn't the correct measurement for children to judge whether it's the right time to give floaties or not. But, there is a minimum age range recommended by experts & everybody should consider those ranges. 
Floaties can be introduced when a child is old enough to be in the water, typically 1 to 3 years. If your little one is below the 1-year range, it's recommended not to give them floaties as it might cause –
Choking Hazard:

Floaties might come off and be a choking hazard for your child. 

Restrict Movement:

Floaties may restrict your child's movement & cause them not to learn swimming properly. 
If your child reaches the one-year mark, you can consider getting them one of the best floaties for 1-year-olds to make their swimming sessions more enjoyable.
2. Do You Have Multiple Kids? 
This question might look odd in this context, but it matters. If you have two or more kids & none of them know how to swim yet want to join the pool, getting floaties remains your only option. 
You, too, can enjoy your leisure time in the pool if you give your kids floaties. However, please don't get carried away as it's not 100% safe. Keep an eye on them while you enjoy your pool time. 
3. Is It Too Hot Outside? 
Most adults don't face any serious issues due to sunburn. But, a child is very vulnerable to sunburn & they can be harmed in several ways, including – skin damage, skin cancer, discomfort & illness. 
To prevent sunburn on a hot day, you must cover up your child with something. Here, floaties with a canopy play an essential role. If you get your kid the correct type of floaties, you & your child both can have a relaxing pool session. 
Get your kid vitamin D (from sunlight) by adjusting the canopy. Most floaties with a canopy come with an adjustable canopy – means, you can adjust them and get your child sunlight whenever the light intensity is low. In this way, your child can get sunlight in a healthy way.
4. Can Your Child Swim Already? 
There is no need to give your child floaties if they can swim independently. It will do more harm than good if you still provide them with floaties. 
Floaties can limit a child's arm movements, hampering their ability to maneuver in the water and potentially lead to poor habits and posture.
5. How Often Will Your Child Use Floaties? 
Floaties can be beneficial in certain situations, such as short-term use in a controlled environment. However, if you let your child use floaties frequently – it won't be beneficial but rather hamper your child's swimming learning process. 
Letting children use floaties frequently might cause –
Dependency:

If your child uses floaties frequently, they will overly rely on floaties & won't develop essential swimming skills. 

Development Delays:

Extended usage of floaties can harm your child's natural progression of learning how to swim. As swimming is a life skill, you should not compromise with it in any way. 
So, ensure that you do not allow your child to use floaties frequently for their own well-being. If you can prevent your child from overusing floaties, give them floaties to enhance their fun in the pool.
Top 5 Benefits of Using Floaties 
Let's assume you're still trying to figure out whether you'll get your child floaties or not. The following benefits of using floaties might help you to settle on a decision: 
1. Added Layer of Safety 
Under a controlled environment & surveillance of parents, floaties can add another layer of safety. Floaties add extra buoyancy and reduce the risk of accidental submersion of the user. 
2. Independence in The Water 
If your child is around 3 years old & uses swim vests – they can explore the pool on their own. It gives them much joy & a sense of independence in the water. Water wings can also help your child to explore independently, but parental assistance is recommended.
3. Makes Swimming Fun for Kids
There are several types of floaties available in the market. Some of these floaties are – water wings, swim vests, swim rings, swim noodles, and so on. 
These floaties come in various sizes, shapes & colors, making them kid-friendly. Kids enjoy their swimming session more if they are equipped with one of these floaties. 
4. Can Aid in the Learn-To-Swim Process 
Floaties and parental assistance are the best combination for a child to learn to swim properly. Parents can teach their children how to swim & let them practice being in the floaties. It will add an extra layer of security while they try to swim. 
5. Reduce Stress for Parents
Floaties can be a lifesaver for parents, offering them relaxation and peace of mind when their children are in the water. With floaties, parents can rest assured that their children will likely remain afloat and safe.
Conclusion
I hope this article helped you decide whether your child should use floaties. I have included five questions you should consider to understand the current situation better and make an informed decision.