Got bored of entertaining your toddler all day long?— Simply get your child the best interactive baby dolls and see how they keep happily occupied.
Older toddlers are known to get cranky very easily. They do throw tantrums and sometimes get really annoying for the parents. 
But, what we often forget is that this is the age when they see things and learn almost immediately. 
As parents, you should never miss a chance to teach your children. And if it's possible to help the development through playing, then why not!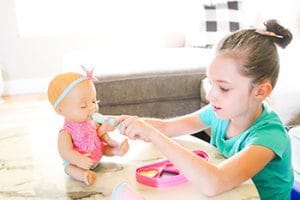 Interactive baby dolls can express some emotions through a few words, sounds and a few phrases. While playing with an interactive doll, toddlers often consider them as a real person. This helps your child to communicate better and develop empathy for others. 
Different interactive dolls come with various features from simple baby noises to say a few words and expressions. Let's explore the top 10 interactive dolls for your toddlers. 
Images

Product Name

Features

React to food, Eat, Sleep

Cries, Coos, Giggles, Kisses Back & Says Momma

Makes 10 Sounds Include :Cries,Giggles,Yawns,, Whines and Babbles

Comes with bathtub, detachable shower spray and many accessories

Move & Breath

3 Songs, Feed, Removable Dress

20 Sounds, Glows with Pretend Feeding

Has 7 interactive functions,
Make drinking noise


Sniffles and Sneezes.
Nose and forehead turn red when she's not feeling well.

Breathes, Cries, Suckles, Giggles and Sleeps
10 Amazing Interactive Baby Dolls that Can Talk, Cry, Wet
1.

Mealtime Magic Mia Interactive Feeding Baby Doll
Mealtime Magic Mia has to be the first of our best interactive baby dolls. Because, it is literally the BEST in the market so far. Mealtime Mia seems lo lifelike with its moving mouth and tongue and playful vibe. This 12 inches smart doll can say 50 food combinations.
Not to mention that there's only 10 foods on her tray. When you use the light-up smart spoon and create new combinations using those 10 foods, little Mia will surprise you by telling you the combinations. This way you can teach your child those combinations and food names too.
Moreover, Mia reacts to the food combination using yuck, yum, sour expressions. Toddlers just love to tickle Mia for hearing her sweet giggles. Your baby can soothe Mia with the bottle and pacifier comes with the doll. There are some additional accessories like a dress, one bow, a pair of shorts etc. included in the packaging. 
The most amazing thing about Mealtime Magic Mia is when she feels playful she might throw a raspberry at you. Kids love to play with this mischievous doll.
However, if your baby is under 4, then this might not be totally useful for your child. Because, this doll is designed to teach children names of foods and a few phrases. Toddlers under the age of 4 mostly don't understand much of it. 
Besides all the cute facial expressions of the doll, your child can rock her to sleep. They can even listen to her heartbeat. Another great thing, you have two language options to play, English and French. This makes it so amazing and versatile.
The only downside of this baby doll is that its lips peel off. For repeated feeding, the lip skin gets worn out pretty easily. 
Another thing may or may not bother you about this doll which is, this doll has no volume control. However, it is not that loud either.
2.

Adora Interactive Doll
Cute little Adora can make 5 sounds while playing with you. If you squeeze her hand, she will cry in pain. And when you pat her head, she will coo in comfort. 
Let your baby kiss the doll and she will kiss her back making kissing sound. Tickling her tummy will make her giggle. And sometimes while patting her head, she will call you momma. 
However, if you want all these five functions to work properly, you need to switch the 'Try Me Mode' on. Some people complained that this doll is faulty whereas they didn't switch the mode in the first place.
This cuddly little baby doll is so soft that your little one may replace her stuffed animal for this while sleeping. Like most other real-looking baby dolls, Adora is made of soft vinyl that gives it a realistic look and hand-feel. 
The most adorable feature of this particular doll is its silky hair. Girl babies usually love to dress their dolls up and do the hair. With this doll, your baby can do both.
This doll comes in three complexions to choose from. Besides, it has a mild fresh baby powder scent to it. But people who are sensitive to smell, may find it a little irritating. So, consider that before buying.
3. Baby Alive Baby Lil Sounds Interactive Baby Doll
Little baby Alive is the perfect gift for kids who love dolls. It's an interactive baby doll for toddlers ages 3 and up. It only makes interactive expressions with baby noises.
This little blondie can make 10 sounds. She will giggle if you play with her. When she cries, let your baby soothe her by putting her pacifier in her mouth and she will make sucking noises. When you take it away, she will whine for a while and then giggle or hiccup when she feels okay.
Baby Alive comes in a removable dress. So your baby can change her clothes with any 12-inch toy clothes. Alive Store sells additional toy accessories like bottles etc. which fits with the doll well.
Let your baby rock Baby Alive. She will yawn and make sleepy sounds before going to sleep. It's the cutest thing ever.
When it's time to wake her up, simply pick her up and she will respond. Although there is no switch to turn it off for the night, no complaints were reported about the doll making random sounds either.
Your kids can enjoy all the baby sounds while playing with the doll. But you cannot bathe or feed Baby Alive.
4.

Baby Bath Toys 13-Inch Little Newborn Doll 
The next contender for the best interactive baby dolls is the Baby Bath Toys. It's a little newborn doll with a bath set. 
Some toddlers love to play with dolls in his shower. These baby bath toys can be the perfect toy for those babies. 
This realistic baby doll is made of vinyl. It comes with a purple bathtub and a lot of bathing accessories. There is a bathrobe, a loofah sponge, rubber duck, a pretend shampoo, soap and lotion. You will get an additional onesie to dress the little newborn after the bath as well.
The biggest woo of this product is its real working shower head and bathtub. Your kids can pretend to bathe the doll with this toy set. The moveable realistic showerhead can pump water and spray it like a real shower. 
It might seem a little hassle to pump up the water out of the showerhead manually. But the playset was designed without a battery so that your child can take it to shower.
This doll set will help you to take your stubborn child for a bath. 
Pretending to give this newborn doll a shower will make bathing enjoyable for your toddler as they would get familiar with the real bathing accessories through this playset.  
5.

Luvabella Newborn Interactive Baby Doll
The Luvabella Newborn is one of the cutest interactive newborn baby dolls that talk and move. This reborn doll gives the most realistic facial expressions with adorable sounds. 
When she is hungry, give her the bottle and she will suckle onto it like a real baby. When she is done feeding she feels gassy. So, ask your child to burp the baby doll. If you tickle Luvabella in her belly, she will giggle. 
The fun fact about this particular interactive doll is its realistic breathing. Once she falls asleep you can see her tummy rising up and falling down as if she is really breathing. Isn't that amazing?
Moreover, once this doll falls asleep it remains off for the night. So, it won't make any random noises in the middle of the night. 
Luvabella is loved for her soft and snuggly body and realistic expressions. But some people have complained about its hair print rubbing off almost immediately after the delivery. Some others have mentioned about it but they said, it didn't bother them and their children much. 
6.

CoComelon Official Deluxe Interactive JJ Doll
If you are looking for interactive baby dolls that you can feed and change clothes, then the CoComelon JJ Doll is the exact match for your toddler.
Although the doll doesn't come with additional clothes. But you can change the removable clothes of JJ if you want. Any 12.5 inches doll clothes will fit him.
The JJ doll can be fed with the spoon and a bowl of peas that comes with him. But people have mentioned that it's a little hard to get the peas into the spoon. And to feed the doll peas, you need to hit a certain spot with the spoon, which is quite a hassle for a child to do it himself.
However, toddlers, especially male toddlers of 3 or older, do like to play with this doll and feed him. This doll can also say a few words and sing songs. The most amazing sight is how JJ reacts when he is fed peas.
The sound of this little JJ doll is quite low. This is good since it doesn't create any disturbance. But it's somewhat frustrating to not hear the doll saying the words or singing clearly.
7.

Baby Alive Glo Pixies Siena Sparkle Interactive Doll
The Glo Pixies Siena Sparkle doll is the most unique and the only glowing interactive doll in our best interactive dolls list. 
The more you care, the more your Pixie will glow. It has more than 20 reactions and sounds. Kids ages 3 and above will enjoy the glowing Pixie doll for its sweet giggles, babbles and slurp.
The Baby Alive Glo Pixie doll comes with a glittery comb, pizza and a shimmery cup. So, whenever you feed her the pizza or let her drink from the cup, she will make munching sounds of eating and then she will glow.
The more you feed her or touch her flower button, the more she glows. She starts to glow from the mouth and then spreads the glowing from her wings to her belly. Older toddlers are capable of guessing where she is going to glow next.
Your child can use the comb to style baby Siena Sparke doll's dramatic purple hair. If your child seems to like this doll, you can add up other dolls from Baby Alive Glo Pixies Collection. 
Everything about this doll is loved by the customers except for the packaging. It comes in a plain box which seems fragile and careless packaging. 
8.

Lissi 16″ Interactive Baby Doll
Some people find reborn dolls creepy, whereas some others find them realistic and convincing. If your child falls under the second category, then we have got the right pick for you. 
The 16 inch Lissi is the most realistic interactive baby doll by its look. Baby Lissi comes with an additional bottle for drinking and a pacifier. 
So, when you put the bottle in her mouth she makes a drinking noise and then she burps. It sounds real and somewhat cute. 
Lissi has 7 interactive functions. If you gently press her hands she will call mama and laugh. When you press her feet she says papa and babble some words. Ask your baby to tickle her tummy to hear her sweet giggle.
It doesn't talk much. So, it's a perfect doll for younger toddlers aged 2 years and so. 
She comes in a cute pink shirt and dark pink pants. But it is removable. So, if you have any 16-inch doll's clothes your child can dress her up. 
Some customers said that the bottle and pacifier that comes with the doll don't fit in her mouth. However, little children often don't understand how to put it through. So, they might not even notice it. 
Moreover, the doll operates through button batteries rather than the usual AA or AAA batteries. So, if the battery dies, it can be a little expensive to change them. 
9.

Baby Alive Lulu Achoo Doll
Does your little love pretend to play doctor and patient? If yes, then we have considered one for you too. It's another best interactive baby doll by Baby Alive, the Lulu Achoo Doll.
This doll is really adorable when she sniffs and sneezes to show you that she is sick and needs your care. She even moves her hands upwards while sneezing. 
It's so realistic that your child will fall in love with this doll almost immediately. And who knows? Maybe playing with this doll and the doctor's checkup kit may encourage a future doctor in the house.
The doll has 50 plus reactions with lights, sounds and movements. So, make sure your toddler is old enough to access and process all of it before giving it a try.
Her nose and forehead will lighten up when she needs you to check her up. Kids can take temperature readings using the thermometer, blow her nose with the tissue, pretend to give her meds using the spoon, and much more.
Your little toddler can listen to her heartbeat by pressing her heart and do a lot of pretend play with this doll. It's so captivating for kids that your kids will stick to it all day for sure. 
The doll has no additional outfits or diapers. So, if your child likes to do those, you need to buy them separately. 
10.

KOOKAMUNGA KIDS Interactive Baby Expressions Doll
The last in our list, Kookamunga is another great interactive with a realistic face and expressions. This one is more suitable for 2/3 years old toddlers. Because it doesn't come with so many reactions as the previous one in our list.
But the expressions of this particular interactive doll are so adorable and real that kids love to watch them. This doll cries when you lay her down. But when you rock her and sooth her with her pacifier, she will coo and giggle.
Kookamunga makes a cute sleeping sound. And when you rock her to sleep, her chest falls and rises like a real baby.
There is a mild motor sound which some people did not like whilst the others were just okay with.
There is a downside of this interactive doll. This doll comes with a built-in outfit. So, you cannot change her clothes. If your child likes to change her doll's clothes so badly, then you would have to buy an oversized doll dress and put it on over the remaining onesie.
Things To Consider Before Buying Interactive Dolls
1. Child's Interactive Capability
The first thing to consider before choosing an interactive doll for your child is his age. You need to make sure that your toddler has come to a certain age to understand and interact with his dolls.
It's important to understand your child's emotional and communication capabilities. Based on that you can choose a suitable interactive doll for your little love.
2. Outlook
Outlook of a doll is an important factor. Children are naturally curious beings. They need to feel attracted and interested in the doll to keep occupied. 
Outlook doesn't mean complexion. Rather you should get dolls of different races for your child so that they learn to value every race and every color. 
However, the doll needs to be interesting in some way. Either go for a funny looking doll like the CoComelon JJ doll, or one with interesting hair or something.  
3. Materials
Children love dolls and often tend to drag around their favorite one with them all along. So, always look for skin-friendly and harsh chemical free materials for the doll. 
More than that, the softer the better. Soft material-made dolls are suitable for kids to play and sleep with. 
4. Features
Consider what features the seller offers for each individual interactive toy. There are a lot of interactive dolls with so many different features. 
There are some great interactive dolls for teaching your words and phrases. On the other hand, some others are able to eat and poop. There are dolls for bathing and dressing up. Some others can get sick and want your care.
Know your child's interest and look for specific features in interactive dolls that will aww your kid. However, make sure that you aren't looking for features that won't come in use at all.
Kids get curious and bored almost instantly. So, don't plan to get an interactive doll with features that your child can't use right now but maybe later. Because, they are most likely to lose their interest before they could learn how to use it. 
5. Battery Life
Another important fact is the battery life. You need to be aware of the fact that the more features an interactive doll offers, the more it uses the battery. 
So, if you want your battery to last longer then avoid buying dolls with extra features that your child cannot even use. 
Moreover, some dolls come with in-built batteries. These batteries usually last longer than the traditional AA, or AAA batteries. But, once they die, it's harder and more expensive to replace the battery. 
FAQ On Interactive Baby Dolls
1. Why should I buy an interactive baby doll?
Studies have shown that playing with dolls is a great tool for children's brain development. Children develop their minds by using their imaginations and communication skills while playing with a doll. 
And when the doll is responsive and interactive, it helps a lot. Children get attached to the interactive dolls which enhance their empathy and nurturing skill. 
That's why parents of toddlers should buy an interactive baby doll for their littles. 
2. Can the dolls be played within the bathtub?
No, not all interactive dolls can be played in the bathtub. Because, most of these dolls are battery operated.
However there are some dolls made specifically for playing in the shower like the Baby Bath Toys. These dolls are not battery-operated. 
So, you can buy these interactive dolls for bathing if your child wants to play in the bathtub. 
3. Are interactive baby dolls durable?
This is a real concern for the parents. But most dolls are durable enough to last longer than your children's interest for the doll. 
However, Interactive baby dolls do offer longevity. But it needs some basic care. 
4. How do I clean the doll?
Most dolls are easy to clean. You can just wipe it up using a damp towel. At the maximum, you can use mild soap water for the stubborn stains. 
Try nothing more than that to clean your dolls. Never immerse a battery-operated doll into the water. 
Conclusion
Toddlers are good at imagination. If you are a parent of one, get your child a doll and see how he explores his mind.
There are so many options in the market out there. But the best interactive baby dolls are those that teach your child through playing. Mealtime Magic Mia can be a great option!
Your child can learn different names of things and foods, a few phrases, some expressions from interactive dolls. But, more than everything, they will learn how to show empathy through playing these realistic baby dolls. 
We have picked the best 10 interactive dolls in the market for your toddlers. So, select and order the right one for your child and surprise them this Christmas. 
You May Also Like: